Operating Aspects of
13th August 1937
Page 48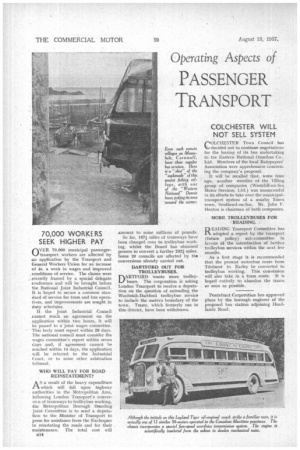 Page 49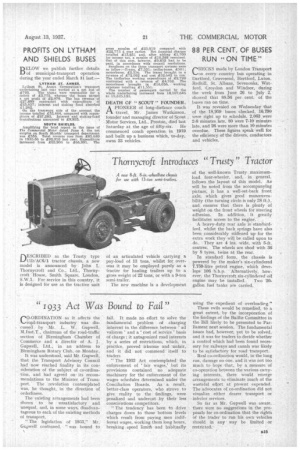 Page 48, 13th August 1937 —
Operating Aspects of
Close
PASSENGER TRANSPORT
70,000 WORKERS SEEK HIGHER PAY
(AVER 70,000 municipal passengerkJ transport workers are affected by an application by the Transport and General Workers Union for an increase of 4s. a week in wages and improved conditions of service. The claims were , recently framed by a special delegate conference and will be brought before the National Joint Industrial Council. It is hoped to secure a common standard of service for tram and bus operatives, and improvements are sought in duty schedules.
If the Joint Industrial Council cannot reach an agreement on the application within two hours, it will be passed to a joint wages committee. This body must report within 28 days. The national council must consider the wages committee's report within seven days and, if agreement cannot be reached within 14 days, the application will be referred to the Industrial Court, or to some other arbitratiou tribunal.
WHO WILL PAY FOR ROAD REINSTATEMENT?
As a result of the heavy expenditure which will fall upon highway authorities in the Metropolitan Area, following London Transport's conversion of tramways to trolleybus working, the Metropolitan Borough Standing Joint Committee is to send a deputation to the Minister of Transport to press for assistance from the Exchequer in reinstating the roads and for their maintenance. The total cost will
amount to some millions of pounds.
So far, 107i miles of tramways have been changed over to trolleybus working, whilst the Board has obtained powers to convert a further 2321 miles. Some 20 councils are affected by the conversions already carried out.
DARTFORD OUT FOR TROLLE Y BUSES.
DARTFORD wants more trolleybuses. The corporation is asking London Transport to receive a deputation on the question of extending the Woolwich-Dartford trolleybus service to include the eastern boundary of the town, Trams, which formerly ran in this district, have been withdrawn.
COLCHESTER WILL NOT SELL SYSTEM.
COLCIIESTER Town Council has ...decided not to continue negotiations for the leasing of its bus undertaking to the Eastern National Omnibus Co., Ltd. Members of the local Ratepayers' Association were apprehensive concerning the company's proposal.
It will be recalled that, some time ago, another member of the Tilling group of companies (Westeliff-on-Sea Motor Services, Ltd.) was unsuccessful in its efforts to take over the municipaltransport system of a nearby Essex town, Southend-on-Sea. 'Mr. John F. Heaton is chairman of both companies.
MORE TROLLEYBUSES FOR READING.
READING Transport Committee has adopted a report by the transport (future policy) sub-committee in favour of the introduction of further trolleybus services within the next -few months.
As a first stage it is recommended that the present motorbus route from Tilehurst to Earley be converted to trolleybus working. This conversion will also take in a tram route. It is hoped entirely to abandon the trains so 50011 as possible.
Pontefract Corporation has approved plans by the borough engineer of the proposed bus station adjoining Headlands Road. DEATH OF " SCOUT " FOUNDER.
APIONEER of long-distance coach travel, Mr. James Watkinson, founder and managing director of Scout Motor Services, Ltd., Preston, died last Saturday at the age of fifty-six. He commenced coach operation in 1919 and built up a business which, to-day, owns 23 vehicles.
88 PER CENT. OF BUSES RUN "ON TIME"
CHECKS made by London Transport on every country bus operating in Dartford, Gravesend, Hertford, Luton, Redhill, St. Albans, Sevenoaks, Watford, Croydon and Windsor, during the week from June 26 to July 2, showed that 88.56 per cent, of the buses ran on time.
It was revealed on Wednesday that of the 18,9;19 buses checked, 16,790 were right up to schedule, 2,063 were 2-6 minutes late, 80 Were 7-10 minutes late, and 26 were more than 10 minutes overdue. These figures speak weIl for the efficiency of the drivers, conductors and vehicles.