Strength of British Motor Industry
13th August 1937
Page 36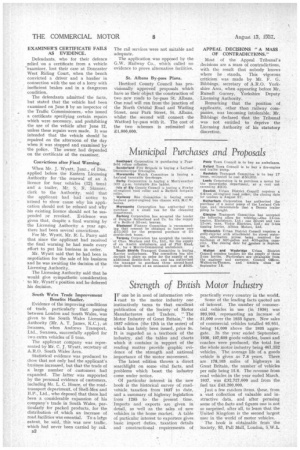 Page 36, 13th August 1937 —
Strength of British Motor Industry
Close
I F one be in need of information rele vant to the motor industry one instinctively turns to that excellent publication of the Society of Motor Manufacturers and Traders, "The Motor Industry of Great Britain," the 1937 edition (the 12th in the series) of which has lately been issued, price 5s. It is regarded as a textbook of the industry, and the tables and charts which it contains in support of the reading matter provide graphic evidence of the strength and national importance of the motor movement.
The latest edition throws a direct searchlight on some vital facts, and problems which beset the industry come under notice.
Of particular interest in the new book is the historical survey of roadvehicle taxation from 1637 to date, and a summary of highway legislation from 1285 to the present time. Imports and exports are given in detail, as well as the sales of new vehicles in the home market. A table of particular interest to exporters gives basic import duties, taxation details and constructional requirements of practically every country in the world.
Some of the leading facts quoted are of interest. The number of commercial vehicles in use (in 1936) was 593,903, representing an increase of 31,000 over the 1935 figure. New, sales of commercial vehicles totalled 95,951, being 14,000 above the 1935 aggregate. In the year ended September, 1936, 107,609 goods vehicles, buses and coaches were, produced, the total for the Whole motor industry being 461,352 vehicles. The average life of a goods vehicle is given as 7.8 years. There are 178,103 miles of highways in Great Britain, the number of vehicles per mile being 15.6. The revenue from road vehicles in the year ended March, 1937, was £32,727,000 and from the fuel tax £43,200,000.
Just a few random items, these, from a vast collection of valuable and instructive data, and after perusing some of the facts and figures one is not so surprised, after all, to learn that the United Kingdom is the second largest user in the world of motor vehicles.
The book is obtainable from the Society, 83, Pall Malf, London, S.W.1.