Have Clearing-house Hauliers Goodwill?
13th August 1937
Page 34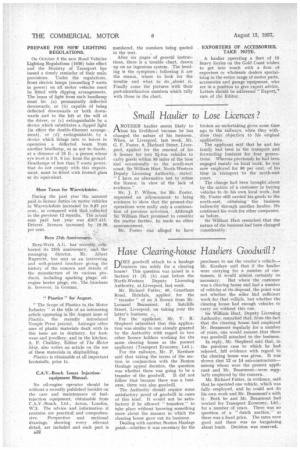 Page 34, 13th August 1937 —
Have Clearing-house Hauliers Goodwill?
Close
D'Esgoodwill attach to a haulage business run solely for a clearing house? This question was raised in a Section 11 (3) (b) . case before the North-Western Deputy Licensing Authority, at Liverpool, last week.
Mr. Richard Futter, 40, Grantham Road, Birkdale, applied for the " transfer" of an A licence from Mr. Leonard Beaumont, 41, Sutcliffe Street, Liverpool, on taking over the latter's business.
For the applicant, Mr. V. R. Shepherd submitted that this application was similar to one already granted by the Authority with regard to two other licence holders working for the same clearing house as the present applicant (Transport Economy, Ltd.).
For the railways, Mr. P. Kershaw said that taking the terms of the section in conjunction with the Boston Haulage appeal decision, the question was whether there was going to be a transfer of the goodwill. It did not follow that because there was a business, there was also goodwill.
The Authority should require some satisfactory proof of goodwill in cases of this kind. It would not be satisfactory if he allowed " transfers" to take place without knowing something more about the manner in which the clearing house gave out its business.
Dealing with another Boston Haulage point—whether it was necessary for the purchaser to use the vendor's vehicle— Mr. Kershaw said that if the haulier were carrying for a number of customers, it would almost certainly be necessary. But where the customer was a clearing house and had a number of vehicles at its disposal, the point was not whether the seller hhd sufficient work for that vehicle, but whether the clearing house had enough vehicles to carry on without this one.
Sir William Hart, Deputy Licensing Authority, remarked that, from the fact that the clearing house had employed Mr. Beaumont regularly for a number of years, one would assume that there was goodwill attached to the business.
In reply, Mr. Shepherd said that, in the previous case to which he had referred, full evidence with regard to the clearing house was given. It was shown that 12 or 14 sub-contractors-among whom were the present applicant and Mr. Beaumont—were regularly employed by the concern. Mr. Richard Futter, in evidence, said that he operated one vehicle, which was fully employed, and he could not do his own work and Mr. Beaumont's with it. Both he and Mr. Beaumont had worked for Transport Economy, Ltd., for a number of years. There was no question of a " dutch auction," as there was a fixed price. The rates were good and there was no bargaining about loads. Decision was reserved.