One Hears
13th August 1937
Page 31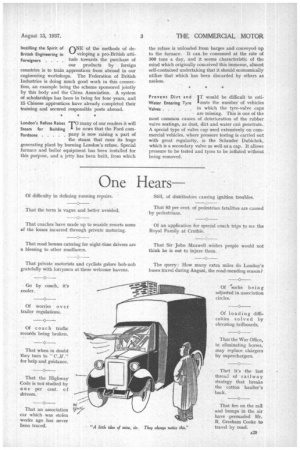 Page 31, 13th August 1937 —
One Hears
Close
Of difficulty in defining running repairs. That the term is vague and better avoided.
That coaches have made up to seaside resorts some of the losses incurred through private motoring.
That road houses cateringlor night-time drivers are a blessing to other roadfarers.
That private motorists and cyclists galore hob-nob gratefully with lorrymen at these welcome havens.
• Go by coach, it's cooler.
Of worries over trailer regulations.
Of coach traffic records being broken.
That when in doubt they turn to " C.M." for help and guidance.
That the Highway Code is not studied by one per cent, of drivers.
That an association car which was stolen weeks ago has never been traced. Still, of distributors causing ignition troubles.
That 83 per cent, of pedestrian fatalities are caused by pedestrians.
Of an application for special coach trips to see the Royal Family at Crathie.
That Sir John Maxwell wishes people would not think he is out to injure them.
The query : How many extra miles do London's buses travel during August, the road-mending season ?
Of Atsocks being adjusted in association circles.
Of loading diffi. cul4:ies solved by elevating tailboards.
That the War Office, in eliminating horses, may replace chargers by superchargers.
That it's the last thread of railway strategy that breaks the cotton haulier's back.
That fire on the rail and bumps in the air have persuaded Mr. R. Gresham Cooke to travel by road.