Reducing Wear by Cleansing Air.
13th August 1929
Page 74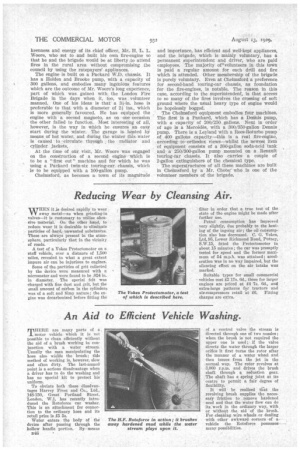 Page 74, 13th August 1929 —
Reducing Wear by Cleansing Air.
Close
WHEN it is desired rapidly to wear away metal—as when grinding-in valves—it is customary to utilize abrasive material. On the other hand, to reduce wear it is desirable to eliminate particles of hard, unwanted substances. These are always present in the atmosphere, particularly that in the vicinity of roads.
A test of a Vokes Protectomotor on a staff vehicle, over a distance of 1,500 miles, revealed to what a great extent impure air can be injurious to engines.
Some of the particles of grit collected by the device were measured with a micrometer and were found to be .024 in. in diameter. The special felt was charged with fine dust and grit, but the small amount of carbon in the cylinders was of a soft and filmy nature; the engine was decarbonized before fitting the
filter in order that a true test of the state of the engine might be made after further use.
Petrol consumption has improved very slightly, due probably to the heating of the ingoing air ; the oil consumption also has decreased. C. G. Yokes, Ltd, 95, Lower Richmond Road, Putney, S.W.15, fitted the Protectomotor in about 15 minutes; the car was promptly tested for speed and the former maximum of 54 m.p.h. was attained; acceleration was in no way impaired, but the silencing effect on the air intake was marked.
Suitable types for small commercial vehicles cost £2 17s. 6d., thhse for larger engines are priced at £4 7s. 6d., and extra-large patterns for tractors and air-compressors retail 'at £6. Fitting charges are extra.