An Aid to Efficient Vehicle Washing.
13th August 1929
Page 74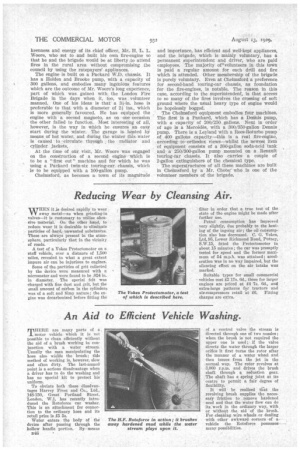 Page 74, 13th August 1929 —
An Aid to Efficient Vehicle Washing.
Close
THERE are many parts of a motor vehicle which it is not possible to clean efficiently without the aid of a brush working in conjunction with a water stream. Usually the man manipulating the hose also wields the brush; this method of working is, however, slow and often dirty. The last-named point is a serious disadvantage when a driver has to do the washing and has no special kit to protect his uniform.
To obviate both these disadvantages Harvey Frost and Co., Ltd., 148-150, Great Portland Street, London, W.1, has recently introduced the Rotoforce car washer. This is an attachment for connection to the ordinary hose and its retail price is £5 5s.
Water enters the body of the device after passing through the hollow handle portion. By means B473 • of a control valve the stream is directed through one of two nozzles; when the brush is not required the upper one is used ; if the valve directs the water through the larger orifice it first turns the rotor after the manner of a water wheel and then issues from the jet in the normal way. The rotor revolves at 3,000 r.p.m. and drives the brush shaft through a reduction gear. The shaft has a spring joint at its centre to permit a fair degree of flexibility.
It will be realized that the revolving brush supplies the necessary friction to _remove hardened mud and that the water flow can do its 'work in the ordinary way, with or without the aid of the brush. For cleaning wire -wheels or dealing with other awkward corners of avehicle the Rotoforce possessesmany possibilities.