Forward Control on the 21-TON VULCAN
13th August 1929
Page 71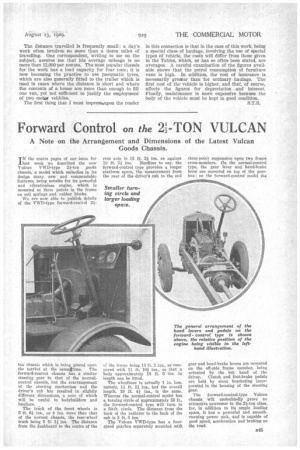 Page 71, 13th August 1929 —
Forward Control on the 21-TON VULCAN
Close
A Note on the Arrangement and Dimensions of the Latest Vulcan Goods Chassis.
IN the centre pages of our issue for last week we described the new Vulcan VWD-type 2A-ton goods chassis, a model which embodies in its design many new and commendable features, being notable for its powerful and vibrationless engine, which is mounted at three points in the frame on coil springs and rubber blocks.
We are now able to publish details of the VWD-type forward-control 2A ton chassis which is being placed upon the market at the sameiltime. The forward-control chassis has a similar steering gear to that of the normalcontrol chassis, but the rearrangement of the steering mechanism and the driver's cab has resulted in slightly different dimensions, a note of which will be useful to bodybuilders and hauliers. _ The track of the front wheels is 5 ft. 61 ins., or 4 ins, more than that of the normal chassis, the rear-wheel track being 5 ft. IA ins. The distance from the dashboard to the centre of the rear axle is 13 ft. 21 ins, as against 19 ft. 24. ins. Needless to say, the forward-control type provides a longer platform space, the measurement from the rear of the driver's cab to the end of the frame being 15 ft. 2 ins., as compared with 11 ft. 101 ins., so that •a body approximately 16 ft. 6 ins, in length can be fitted.
The wheelbase is actually 1 in. less, namely, 11 ft. 11 ins., but the overall length, 19 ft. 4A ins., is the same. Whereas the normal-control model has a turning circle of approximately 55 ft., the forward-control type will turn in a 50-ft. circle. The distance from the back of the radiator to the back of the cab is 3 ft_ 5 ins.'
The Vulcan VWD-type has a fourspeed gearbox separately mounted with
three-paint suspension upon two frame cross-members. On the normal-control type, the gear lever and hand-brake lever are mounted on top of the gearbox on the forward-control model the
gear and hand-brake levers are mounted on the off-side frame member, being actuated by the left hand of the driver. Clutch and foot-brake pedals are held by stout bracketing incorporated in the housing of the steering gear.
The forward-control-type Vulcan chassis will undoubtedly prove an attractive newcomer in the 21-ton class, for, in addition to its ample loading space, it has a powerful and smoothrunning power unit, and is capable of good speed, acceleration and braking On the road.