PHASES OF PASSENGER TRAVEL
13th August 1929
Page 63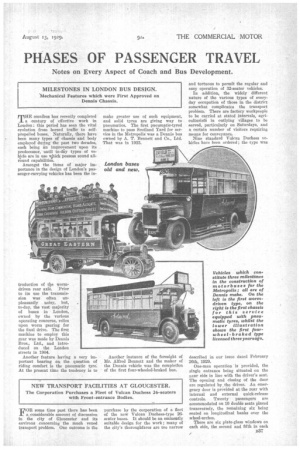 Page 63, 13th August 1929 —
PHASES OF PASSENGER TRAVEL
Close
Notes on Every Aspect of Coach and Bus Development.
TUBE omnibus has recently completed 1 a century of effective work in London : this period has seen the vital evolution from horsed traffic to selfpropelled buses. Naturally, there have been many types of chassis and body employed during the past two decades, each being an improvement upon its predecessor, until to-day types of vehicle are in use wyhich possess sound allrimnd capabilities.
Amongst the items of major importance in the design of London's passenger-carrying vehicles has been the in
troduction of the wormdriven rear axle. Prior to its use the transmission was often unpleasantly noisy, but, to-day, the vast majority of buses in London, owned by the various operating concerns, relies upon worm gearing for the final drive. The first machine to employ this gear was made by Dennis Bros., Ltd., and introduced on the London streets in 1904.
Another feature having a very important bearing on the question of riding comfort is the pneumatic tyre: At the present time the tendency is to make greater use of such equipment, and solid tyres are giving way to pneumatics. The first pneumatic-tyred machine to pass Scotland Yard for service in the Metropolis was a Dennis bus owned by A. T. Bennett and Co., Ltd. That was in 1925.
Another instance of the foresight of Mr. Alfred Bennett and the maker of the Dennis vehicle was the completton of the first four-wheeled-braked bus.
and tortuous to permit the regular and easy operation of 32-seater vehicles.
In addition, the widely different nature of the various types of everyday occupation of those in the district somewhat complicates the transport problem. There are factory workpeople to be carried at stated intervals, agrieulturisfi in outlying villages to be served, particularly on Saturdays, and a certain number of visitors requiring means for conveyance.
Nine standard Vulcan Duchess yehicks have been ordered ; the type was
Vehicles which constitute three milestones in the construction of motorbuses for the Metropolis; all are of Dennis make. On the left is the first wormdriven type, on the right is the first chassis for this service equipped with pneumatic tyres, whilst the lower illustration shows the first fourwheel-braked type licensed three years ago.