The Commercial-motor Industry in the U.S.A.
13th August 1929
Page 57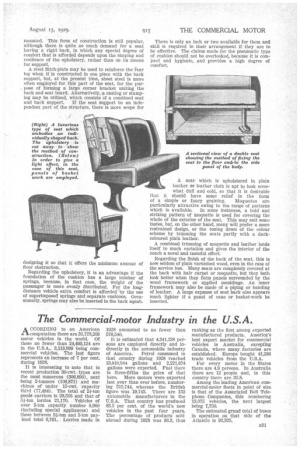 Page 57, 13th August 1929 —
The Commercial-motor Industry in the U.S.A.
Close
ACCORDING to an American computation there are 31,778,203 motor vehicles in the world. Of these no fewer than 24,493,124 are in the U.S.A., 3,113,999 being commercial vehicles. The last figure represents an increase of 7 per cent. during 1928.
It is interesting to note that in recent production 30-cwt. types are the most numerous (306,890), next being 2-tonners (108,871) and machines of under 15-cwt. capacity third (77,484). The total of 2+-ton goods carriers is 29,556 and that of 31-ton lorries 21,170. Vehicles of over 5-ton capacity number 8,969 (including special appliances) and those between 3+-ton and 5-ton payload total 6,761. Lorries made in
1928 amounted to no fewer than 576,540.
It is estimated that 4,341,138 persons are employed directly and indirectly in the automobile industry of America. Petrol consumed in that country during 1928 reached 13,810,944 gallons and 2,221,674 gallons were exported. Fuel there Is three-fifths the price of that here. More motors were exported last year than ever before, numbering 515,744, whereas the British figure was 19,743. There are 152 automobile manufacturers in the 'U.S.A. That country has produced 83.5 per cent. of the world's new vehicles in the past four years. The percentage of products sold abroad during 1928 was 36.3, thus ranking as the first among exported manufactured products. America's best export market for commercial vehicles is Australia, excepting Canada, where many factories are established. Europe bought 41,236 trade vehicles from the U.S.A.
For every motor in the States there are 4.9 persons. In Australia there are 12 people and, in this country there are 35.8.
Among the leading American commercial-motor fleets in point of size Is that of the Associated Bell Telephone Companies, this numbering 13,075 vehicles, the next largest being 7,750.
The estimated grand total of buses in operation on that side of the Atlantic is 92,325,