A TAXICAB
13th August 1929
Page 52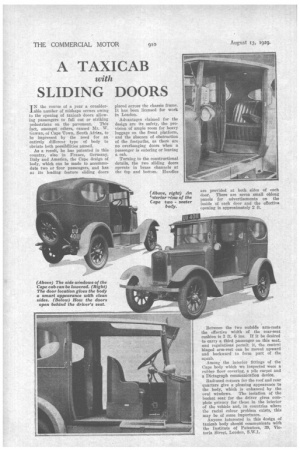 Page 52, 13th August 1929 —
A TAXICAB
Close
with
SLIDING DOORS
TN the course of a year a consider.able number number of mishaps occurs owing to the opening of taxicab doors allowing passengers to fall out or striking pedestrians on the pavement. This fact, amongst others, caused Mr. W. Gowan, of Cape Town, South Africa, to be impressed by the need for an entirely different type of body to obviate both possibilities named.
As a result, he has patented in this country, also in France, Germany, Italy and America, the Cape design of body, which can be made to accommodate two or four passengers, and has a.,.3 its leading feature sliding doors
placed across the chassis frame. It has been licensed for work in London.
Advantages claimed for the design are its safety, the provision of ample room for heavy luggage on the front platform, and the absence of obstruction of the footpaths, as there are no overhanging doors when a passenger is entering or leaving a cab.
Turning to the constructional details, the two sliding doors operate in brass channels at the fop and bottom. Handles Between the two outside arm-rests the effective width of the rear-seat cushion is 3 ft. 6 ins. If it be desired to carry a third passenger on this seat, and regulations permit it, the central hinged arm-rest can be moved upward and backward to form part of the squab.
Among the interior fittings of the Cape body which we inspected were a rubber floor covering, a pile carpet and a Dictagraph communication device.
Itadiused corners for the roof and rear quarters give a pleasing appearance to the body, which is enhanced by the oval windows. The isolation of the bucket seat for the driver gives complete privacy for those in the interior of the vehicle and, in countries where the racial colour problem exists, this may be of some importance. Anyone interested in this design of taxicab body should communicate with the Institute of Patentees, 30, Victoria Street, London, S.W.1.