Personal Pars.
13th August 1929
Page 47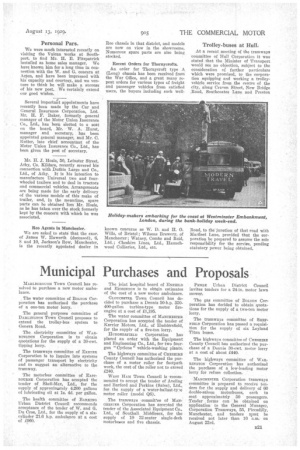 Page 47, 13th August 1929 —
Personal Pars.
Close
We were much interested recently on visiting the Vulcan works at Southport to find Mr. H. E. Fitzpatrick installed as home sales manager. We have known him for a long time in connection with the W. and G. concern at Acton, and have been impressed with his capacity and courtesy, and we venture to think he will make a success of his new post. We certainly extend our good wishes.
Several importailt appointments have recently been made by the Car and General Insurance Corporation, Ltd. Mr. H. F. Baker, formerly general manager of the Motor Union Insurance Co., Ltd., has been elected to a seat on the board, Mr. W. A. Hurst, manager and secretary, has been appointed general manager, and Mr. C. Rutter, late chief accountant of the Motor Union Insurance Co., Ltd., has been given the post of secretary.
Mr. H. S. Rosie, 50, Leinster Street, Athy, Co. Kildare, recently severed his connection with Duthie Large and Co., Ltd., of Athy. It is his intention to manufacture Universal two and fourwheeled trailers and to deal in tractors and commercial vehicles. Arrangements are being made for the early delivery of the various models of this make of trailer, and, in the meantime, spare parts can be obtained 'fom Mr. Rosie, as he has taken over the stock formerly kept by the concern with which he was associated.
Reo Agents in Manchester.
We are asked to state that the exor. of James W. Haworth (deceased), 6, 8 and 10, Jackson's Row, Manchester, is the recently appointed dealer in Reo chassis in that district, and models are now on view in the showrooms. Numerous spare parts are also being stocked.
Recent Orders for Thornycrofts.
An order for Thornycroft type A (Long) chassis has been received from the War Office, and a great many repeat orders for various types of freight and passenger vehicles from satisfied users, the buyers including such well known concerns as W. D. and H. 0. Wills, of Bristol ; Wilsons Brewery, of Manchester ; Watney, Combo and Reid, Ltd.; Cheshire Lines, Ltd., Haunchwood Collieries, Ltd., etc.
Trolley-buses at Hull.
At a recent meeting of the tramways committee of Hull Corporation it was stated that the Minister of Transport would see no objection, subject to the consideration of further particulars which were promised, to the corporation equipping and working a trolleyvehicle service from the centre of the city, along Craven Street, New Bridge ,Road, Southcoates Lane and Preston Road, to the junction of that road with Marfleet Lane, provided that the corporation be prepared to assume the sole responsibility for the service, pending statutory power being obtained.