LOOSE LEAVES
13th August 1929
Page 44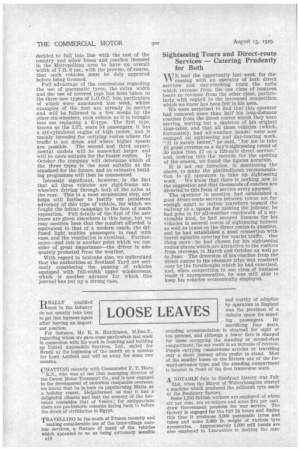 Page 45
Page 44, 13th August 1929 —
LOOSE LEAVES
Close
REALLY qualified men in the industry do not usually take long to get into harness again after leaving an important position.
For instance, Mr. E. B. Hutchinson, M.Inst.T., regarding whom we gave some particulars last week in connection with his work in founding -and building up United Automobile Services, Ltd., sailed for Brazil at the beginning of the month on a mission for Lord Ashfield and will be away for some two months.
CHATTING recently with Commander F. T. Hare, R.N., who was at one time managing director of the Devon Motor Transport Co., and is now engaged in the development of motorbus companies overseas, we learnt that he is keen on popularizing Malta as a holiday resort. He4informed us that it has a delightful climate and that the scenery of the harbours resembles that of Venice; for antiquarians there are pre-historic remains dating back to before the dawn of civilization in Egypt.
TRAVELLING in the south of France recently and making considerable use of the inter-village autobus services, a feature of many of the vehicles which appealed to us as being extremely sensible
B18
and worthy of adoption by operators in England was the provision of a definite space for standing passengers. By sacrificing four seats, standing accommodation is obtained for eight or ten persons, and although a lower fare is charged for those occupying the standing or second-class compartment, the net result is an increase of revenue. People carrying cumbersome articles or travelling only a short journey often prefer to stand. Most of the smaller buses on the Riviera are of the forward-entrance-type, and the standing compartment is located in front of the first transverse seats.
A NOTABLE date in Goodyear history was July 31st, when the Mayor of Wolverhampton started a machine which produced the millionth tyre made at the Bushbury factory.
Some 1,350 British workers are employed, of whom six per cent. are ex-miners and some five per cent. draw Government pensions for war service. The factory is engaged for the full 24 hours and during this time it produces 3,000 pneumatic tyres and tubes and some 2,400 lb. weight of various tyre accessories. Approximately 1,000 mill hands are also employed in Lancashire in making the corn pany's Snpertwist fabric, of which 2,400 tons have been utilized, in addition to 6,000 tons of crude rubber, although the factory has not been operating for much more than a year.
ivE learn that great preparations have been made in Berlin to welcome the delegates of the International Advertising Convention, which is being held there during this week, many of the visitors coming from the Continent, Great Britain and the United States. There is an Advertising Exhibition which has been two years in course of organization, and Berlin is now a centre for representative business men from all parts of the Republic, particularly as August 11th was the tenth Anniversary of the German Constitution.
A SHORT time ago we were travelling in a private-hire car along a well-known London thoroughfare when a man who appeared to be a novice, and was in a gleaming new car, drove out of a side turning. Although he saw us approach lag, he continued his 'course, and the efforts of our chauffeur to try to avoid him were of no avail. The car of the man who was guilty of this outrageous driving had its bumpers severely damaged, whilst the vehicle ill which we were travelling was put out of action.
Mr. Malcolm Campbell, the famous racing motorist, happened to be passing in his Rolls-Royce, and was kind enough to convey us to our destination. This part of the journey was, incidentally, one of the most enjoyable that we have ever experienced.
THE general sessions of the Advertising Conven tion is being held in the Wintergarten, Berlin, which is a fine building seating more than 2,000 people. Lord Riddell has spoken as president of the Advertising Association and will be followed by many other British speakers well known in the pub licity world. The British delegation actually numbers 236 persons. It was received in Berlin by Dr. Hans Luther, the ex-Chancellor, and was welcomed by Herr Stresseman, the Foreign Minister.