Sightseeing Tours and Direct-route Services — Catering Prudently for Both
13th August 1929
Page 44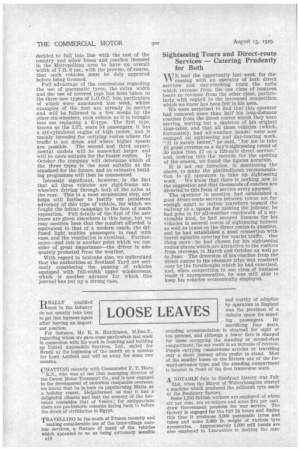 Page 44, 13th August 1929 —
Sightseeing Tours and Direct-route Services — Catering Prudently for Both
Close
NUE had the opportunity last week for dist' cussing with an operator of both direct services and day-coaching tours the ratio which revenue from the one class of business bears to revenue from the other class, particularly with regard to the increased competition which we know has been felt in his area.
We were surprised to find that this operator had removed more than half his long-distance coaches from the direct routes which they were serving, leaving but a skeleton of his original time-table, and that all these vehicles (which, fortunately, had all-weather heads) were now engaged on sightseeing and day-touring work. "It is surely better," he said, "for me to take £8 gross revenue on a day's sightseeing round of 30 miles than £7 on a 120-mile direct service," and, looking into the records for the opening of the season, we found the figures accurate.
It is not our intention, in mentioning the above, to make the platitudinous recommendation to all operators to take up sightseeing work. We know that there is nothing new in the suggestion and that thousands of coaches are diverted to this form of service every summer. The operator in question had established a good direct-route service between towns not far enough apart to incline travellers toward the railway as a means for making the jotrney, he had gone in for all-weather coachwork of a serviceable kind, he had secured licences for his vehicles in several towns of sightseeing interest as well as towns on the direct routes in question, and he had established a good connection with travel agencies catering for tourist traffic. One thing more : he had chosen for his sightseeing routes places which are attractive to the visitors from overseas, In March and October as well as In June. The diversion of his coaches from the direct routes to the pleasure trips was rendered easy by the forethought which he had exercised, and, when competition in one class of business made it unremunerative, he was still able to keep his vehicles economically employed.