A Reserve of 10,000 Petrol Three-tonners.
13th August 1914
Page 6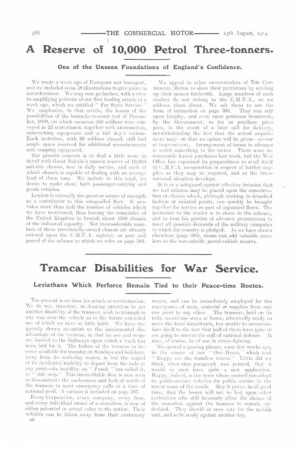 Page 6, 13th August 1914 —
A Reserve of 10,000 Petrol Three-tonners.
Close
One of the Unseen Foundations of England s Confidence.
We wrote a week ago of European war transport, and we included some 18 illustrations to give point to our references. We may now go farther, with a view to atupliing portions of our first leading article of a week ago, which we entitled " For State Service." We emphasize, in that artiele, the lesson of the possibilities of the barracks-to-coast test of December, 1008, on which occasion 000 soldiers were eonveye,d in 25 motorbuses, together with ammunition, entrenching equipment and a full day's rations. Each motorbus, with 20 soldiers aboard, still had ample space reserved for additional accoutrements and camping equipment.
Our present. concern is to deal a little more in detail with Great ..Britain's unseen reserve of 10,000 suitable ehassis, now in daily service, and each of which chassis is capable of dealing with an average load of three tons. We include in this total, we desire to make clear, both passenger-carrying and goods vehicles.
London is naturally the greatest. source of strength as a contributor to this unequalled fleet. It provides more than half the number of vehicles which we have mentioned, thus leaving the remainder of the United Kingdom to furnish about .1500 chassis of the indicated capacity. Not inconsiderable numbers of these provincially-owned chassis are already entered upon the C.:Att.:I. register, as part and parcel of the scheme to which we refer on page 083. We appeal to other owner-readers of THE CoNT1ERCI.11. MOTOR to show their patriotism by sending up their names forthwith. Large numbers of such readers do not belong to the C.M.U.A., so we address them direct. We ask them to use the form of intimation on page 583. They can rely upon fairplay, and even upon generous treatment, by the Government, so far as purchase price goes, in the event of a later call for delivery, notwithstanding the filet that the actual acquirement may-----in that no option will be given—savour ot impressment. Arrangement of terms in advance is worth something to the owner. There were innumerable forced purchases last week, but the War Office has expressed its preparedness to avail itself of C.M.U.A. co-operation in respect of further supplies as they may be required, and as the intornational situation deY•elops.
It is as a safeguard against, effective invasion that we feel reliance may be placed upon the concentration of dtassis which, although working in detached
fashion at isolated points, can quickly be brought• together for service as part of organized fleets. The invitation to the reader is to share in the scheme, and to bear his portion of advanee preparations to meet all possible demands of the military campaign to whieh the country is pledged. As we have shown elsewhere (page 084), steam can add valuable numbers to tho non-subsidy petrol-vehicle reserve.