Petrol Drivers f or Civilian Employment.
13th August 1914
Page 5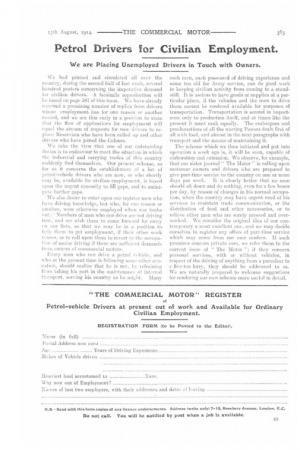 Page 5, 13th August 1914 —
Petrol Drivers f or Civilian Employment.
Close
We are Placing Unemployed Drivers in Touch with Owners.
IVe had printed and circulated all over the country, during the second_ half of last week, several hundred posters concerning the imperative demand tor civilian drivers. A facsimile reproduction will be found. on page 587 of this issue. We have already received a promising number of replies from drivers whose employment has for one reason or another ceased, and we are this early in a position to state that the flow of applications for employment will equal the stream of requests for new drivers to replace Reservists who have been called up and other drivers who have joined the Colours.
We take the view that one of our outstanding duties is to endeavour to meet the situation in whieh the industrial and carrying trades of this country suddenly find themselves. Our present scheme, so far as it concerns the establishment of a list of petrol-vehicle drivers who are now, or who shortly nlay be, available for civilian employment, is based upon the urgent necessity to fill gaps, and to anticipate further gaps.
We also desire to enter upon our register men who Jur% e driving knowledge, but who, for one reason or another, were otherwise employed when war broke cut. Numbers of men who can drive are not driving now, and we wish them to come forward for entry en our lists, so that we may be in a. position to help them to get employment, if their other work ceases, or to call upon them to revert to the ()coupetion of motor driving if there are suflicint demands In 'in owners of commercial motors.
Every man who can drive a petrol vehicle, and who at the present time is following some other avocation, should realize that he is not, by refraining frorri taking his part in the maintenance of internal transport, serving his country as he ri4111. Many such men, each possessed of driving experience and some too old. for Army service, can do good work in keeping civilian activity from coming to a standstill. It is useless to have goods or supplies at a particular place, if the vehicles and the men to drive them cannot be rendered available for purposes of transportation. Transportation is second in importance only to production itself, and at times like the present it must rank equally. The embargoes and proclamations of all the warring Powers dealt first of all with food, and almost in the next paragraphs with transport and the means of maintaining it.
The scheme which we thus initiated and put into operation a week ago is, it will be seen, capable of elaboration and extension. We observe,for example, that our sister journal" The Motor "is calling upon motorcar owners and drivers who are prepared to give part-time service to the country on one or more days per week. It is clearly better that no man should sit down and do nothing, even for a few hours per day, by reason of changes in his normal occupation, when the country may have urgent need of his services to maintain trade communication, or the distribution of food and other necessaries, or to relieve other men who are sorely pressed and overworked. We consider the original idea of our contemporary a most excellent one, and we may decide ourselves to register any offers of part-time service which may come from our own readers. If such promises concern private cars, we refer them to the current issue of " The Motor " ; if they concern personal services, with or without vehicles, in respect of the driving of anything from a parcelcar to ft five-ton lorry, they should be addressed to us. We are naturally prepared to welcome suggestions for rendering our own scheme more useful in detail.