Mechanical Fitness for Service.
13th August 1914
Page 3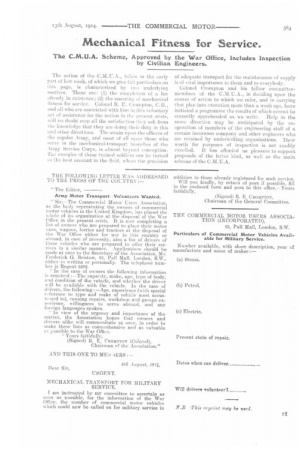 Page 3, 13th August 1914 —
Mechanical Fitness for Service.
Close
The C.M.U.A. Scheme, Approved by the War Office, Includes Inspection by Civilian Engineers.
The action of the .C.M.C.A., taken in the early part of last week, of which we give full particulars on his page, is characterized by Cuo underlying motives. These are : (I) the completion of a list tlreidv in existence; (2) the ensuring of mechanical fitness for service. Colonel R. E. Crompton, C.B., and all who are associated with him in this voluntary act of assistance. for the nation in. the present crisis, will no doubt reap all the satisfaetion they ask from he knowledge that they are doing their duty in this and other directions. The strain upon the officers of he regular Army, and most of all upon those who serve in the mechanical-transport brimehes of the Army Service Corps, is almost beyoud conception. ria energies of these trained soldiers esti be turned to the hest account in the field, where the provision of adequate transport for the maintenance of supply is of vital importance to them and to everybody.
Colonel Crompton and his fellow committeemembers of the C.M.U.A., in deciding upon the course of action to which we refer, and in carrying that plan into execution more than a week ago, have initiated a programme the results of which cannot be correctly apprehended as we write. Help in the same direction may be anticipated by the cooperation of members of the engineering staff of a certain insurance company and other engineers who are retained by underwriting organizations. Their worth for purposes of inspection is not readily excelled. It has afforded us pleasure to support proposals of the latter kind, as well as the main scheme of the C.M.U.A.