The Conservation of Food.
13th August 1914
Page 2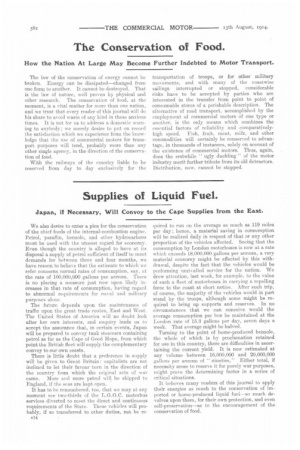 Page 2, 13th August 1914 —
The Conservation of Food.
Close
How the Nation At Large May Become Further Indebted to Motor Transport.
The law of the conservation of energy cannot be broken. Energy can be dissipated—changed from one form to another. It cannot be destroyed. That is the law of nature, well proven by physical and other research. The conservation of food, at the moment, is a vital matter for more than one nation, and we trust that every reader of this journal will do his share to avoid waste of any kind in these anxious times. It is not for us to address a domestic warning to anybody ; we merely desire to put on record the satisfaction which we experience from the knowledge that the use of commercial motors for transport purposes will tend, probably more than any other single agency, in the direction of the conservation of food.
With the railways of the country liable to be reserved from day to day exclusively for the transportation of troops, or for other military movements, and with many of the coastwise sailings interrupted or stopped, considerable risks have to be accepted by parties who are interested in the transfer from point to point of consumable stores of a perishable description. The alternative of road transport, accomplished by the employment of commercial motors of one type or another, is the only means which combines the essential factors of reliability and comparativelyhigh speed. Fish, fruit, meat, milk, and other commodities will certainly he conserved to advantage, in thousands of instances, solely on account of the existence of commercial motors. Thus, again, does the erstwhile "ugly duckling" of the motor industry merit further tribute from its old detractors. Distribution, now, cannot be stopped.