One Hears
13th August 1914
Page 18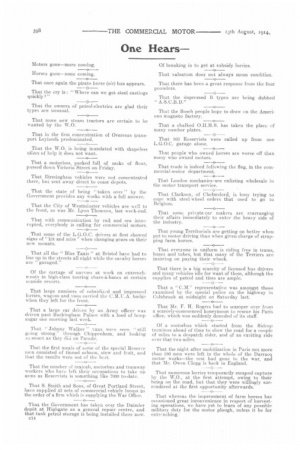 Page 18, 13th August 1914 —
One Hears
Close
Motors gone—more coming. Horses gone—none coming.
That once again the pirate horse (sic) bus appears.
That the cry is : "Where can we get steel castings quickly " That the owners Of petrol-electries are glad their types are unusual.
That more new steam tractors are certain to be wanted by the W.O.
That in the first, concentration of Overseas transport Leylands predominated.
That the W.O. is being inundated with shapeless offers of help it does not want.
That a motorbus, packed full of sacks of flour, passed down Victoria Street on Friday.
That Birmingham vehicles were not concentrated there, but sent away direct to coast depots.
That the state of being "taken .over" by the Government provides any works with a full answer.
That the City of Westminster vehicles are well to the front, as was Mr. Lyon Thomson, last week-end.
That with communication by rail and sea interrupted, everybody is calling for commercial motors.
That some of the L.G.O.C. drivers at first showed signs of "hit and miss" when changing gears on their new mounts.
That all the " Blue Taxis" at Bristol have had to line up in the streets all night while the cavalry horses are "garaged."
Of the cartage of navvies at work on entrenchments in high-class touring chars-à-bancs at certain seaside resorts.
That large numbers of subsidizrd and impressed lorries, wagons and vans carried the C.M.1 .A. badge when they left for the front.
That a large car driven by an Army officer was driven past Buckingham Palace with a load of lump sugar one morning last week.
That " Johnny Walker." vans were seen " still going strong" through Chippenham, and looking as smart as they did on Parade.
That the first meals of sonic of the special Reserve men consisted of tinned salmon, stew and fruit, and that the results were not of the but.
That the number of taxicab, motorbus and tramway workers who have left their occupations to take up arms as Reservists is something like 7000 to-date.
That. S. Smith and Sons, of Great Portland Street, have supplied 43 sets of commercial-vehicle lamps to the order of a firm which is supplying the War Office.
That the Government has taken over the Daimler depot at Highgate as a general repair centre, and that tank petrol storage is being installed there now.
c14 Of breaking in to get at subsidy lorries.
That valuation does not always mean condition.
That there has been a great response from the four pounders.
That the impressed B types are being dubbed " A.S.C.B.D."
That the Bosch people hope to draw on the American magneto factory.
That a chalked 0.1I.M.S. has taken the place ef many number plates.
That 103 Reservists were called up from one L.Cr.O.C. garage alone.
That people who owned horses are worse off than many who owned motors.
That trade is indeed following the flag, in the mercial-motor department. COM That London mechanics-are enlisting wholesale in the motor transport service.
That Clarkson, of Chelmsford, is busy trying to cope with steel-wheel orders that used to go to Belgium.
That some private-car makers are rearranging their affairs immediately to enter the heavy side of the industry.
That young Territorials are getting on better when put to motor driving than when given charge of strapping farm horses.
That everyone in uniform is riding free in trams, buses and tubes, but that. many of the Terriers are insisting on paying their whack.
That there is a big scarcity of licensed bus drivers and many vehicles idle for want of them, although the supplies of petrol and tires are ample.
That a " C.V." representative was amongst those examined by the special police on the highway in Colnbrook at midnight on Saturday last.
That Mr. F. H. Rogers had to scamper over from a scarcely-commenced honeymoon to rescue his Paris office, which was suddenly denuded of its staff.
Of a motorbus which started from the Sidenp terminus ahead of time to show the road for a couple of miles to a despatch rider, and of an exciting ride over that two miles.
That the night after mobilization in Paris not more than 180 men were left in the whole of the Darraeq motor works—the Test had gone to the war, and that Mr. Owen Clegg is back in England.
That numerous lorries temporarily escaped capture by the W.O., at the first, attempt, owing to their being on fhe road, but that they were willingly surrendered at the first opportunity afterwards.
That whereas the impressment of farm horses has occasioned great inconvenience in respect of harvesting operations, we have yet to learn of any possible military duty for the motor plough, unless it be for entrraching.