Bus Roof Torn—Windows Intact
12th September 1947
Page 55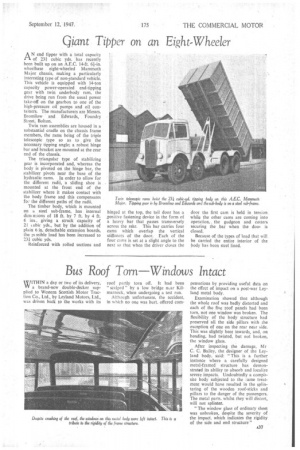 Page 55, 12th September 1947 —
Bus Roof Torn—Windows Intact
Close
WITHIN a day or two of its delivery, VI' a brand-new double-decker supplied to Western Scottish Motor Traction Co., Ltd., by Leyland Motors, Ltd., was driven back to the works with its roof partly torn off. It had been "scalped " by a low bridge mar Kilmarnock, when undergoing a test run.
Although unfortunate, the accident, in which no one was hurt, offered corn
pensations by providing useful data on the effect of impact on a post-war Leyland metal body.
Examination showed that although the whole roof was badly distorted and each of the five roof panels had been torn, not one window was broken. The flexibility of the body structure had preserved all the side pillars with the exception of one on the rear near side. This was slightly bent inwards, and, on bending, had twisted, but not broken, the window glass.
• After inspecting the damage, Mr C. C. Bailey, the designer of the Leyland body, said: "This is a further instance where a carefully designed metal-framed structure has demonstrated its ability to absorb and localize severe impacts. Undoubtedly a comp-bsite body subjected to the :ame treatment would have resulted in the splintering of the wooden roof-sticks and pillars to the danger of the passengers. The metal parts. whilst they will distort, will not splinter.
"The window glass of ordinary sheet was unbroken, despite the severity of the impact, which indicates the rigidity of the side and end structure"