Expert's See Bradford' g System A NEW. Bradford trolleybus route effecting
12th September 1947
Page 34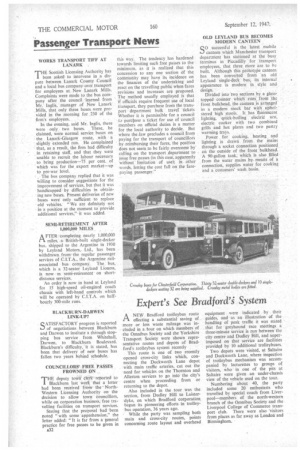 Page 34, 12th September 1947 —
Expert's See Bradford' g System A NEW. Bradford trolleybus route effecting
Close
a substantial saving of more or less waste mileage was included in a Tour on which members of the Omnibus Society and the Yorkshire Transport Society were shown representative routes and depots of Bradford's trolleybus system recently ,
This route is one of two recently opened cross-city links which, connecting the Duckworth Lane depot with main traffic arteries, cut out the need for vehicles on the Thornton and Allerton services to go into the city's centre when proceeding from or returning to the depot.
Also included in the tour was the section, from Dudley Hill to Laisterdyke, on which Bradford corporation, began its pioneering efforts in trolleybus operation, 36 years ago.
While the party was sampling both main and cross-city routes, points concerning route layout and overhead equipment were indicated by their guides, and as an illustration of the handling of peak traffic it was stated that for greyhound race meetings a three-minute service is run between the city centre and Dudley Hill, and superimposed on that service are facilities provided by 10 additional trolleybuses.
Two depots were visited, at Saltaire and Duckworth Lane, where inspection of trolleybus mechanism was accompanied by lecturettes to groups of visitors, who in one of the pits at Saltaire were given an under-chassis view of the vehicle used on the tour.
Numbering about 40, the party included some 20 enthusiasts who travelled by special coach from Liverpool—members of the north-western branch of the Omnibus Society and the Liverpool College of Commerce transport club. There were also --visitors from places as far away as London and Birmingham.