Enterprising Function for Bedford Drivers' Club
12th September 1947
Page 33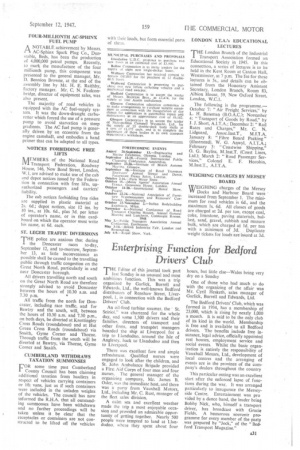 Page 33, 12th September 1947 —
Enterprising Function for Bedford Drivers' Club
Close
THE Fditor of this journal took part last Sunday in an unusual and most ambitious function. This was a trip organized by Garlick, Burrell and Edwards. Ltd., the well-known Bedford distributors of Renshaw Street, Liverpool, 1, in connection with the Bedford Drivers' Club.
An oil-fired turbine steamer, the ' St. Seiriol," was chartered for the whole day, and some 1,300 drivers and their families, directors of transport and other firms, and transptirt managers boarded the ship at Liverpool for a trip to I.landudno, around the Isle of Anglesey. back to Llandudno and then to Liverpool.
There was excellent fare and ample refreshment. -Qualified nurses were engaged to look after the children, and St. John Ambulance Brigade provided a First Aid Corps of four men and four nurses. The general manager of the organizing company, Mr. James B. Osier, was the immediate host, and there was a party from Vauxhall Motors, Ltd., including Mr. C. Rust, manager of the fleet sales division.
A calm sea and excellent weather made the trip a most enjoyable occasion and provided an admirable opportunity of getting together. Nearly 500 people were tempted to land at Llandudno, where they spent about four hours, but little else—Wales being very dry on a Sunday One of those who had much to do with the organizing of the affair was Mr. Cyril Hesketh7 sales manager of Garlick, Burrell and Edwards, Ltd.
The Bedford Drivers' Club, which was formed in 1934, has a membership of 23,000, which is rising by nearly 1,000 a month. It is said to be the only club of its kind in the world. Membership is free and is available to all Bedford drivers. The benefits include free insurance, legal advice, officially appointed rest houses, employment service and social events. Whilst the basic organization is entirely the responsibility of Vauxhall Motors, Ltd., development of local centres and the arranging of events are inthe province of the company's dealers throughout the country.
This particular outing was an excellent start after the enforced lapse of functions during the war. It was arranged particularly to inaugurate the Merseyside Centre. Entertainment was pro vided by a dance band, the leader being Bobby Nick, who, himself a transport driver, has broadcast with Gracie Fields. A humorous souvenir programme for every member of the party was prepared by "Jock," of the " Bedford Transport Magazine."