News of the Week
12th September 1947
Page 30
Page 31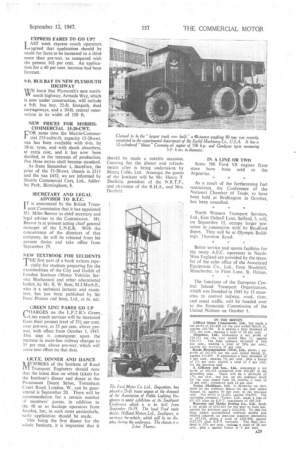 Page 32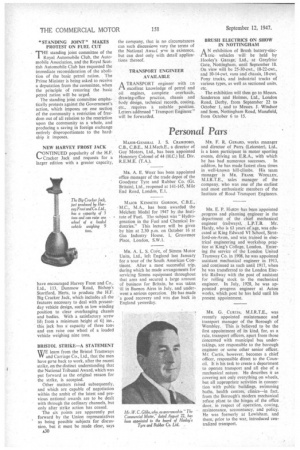 Page 30, 12th September 1947 —
News of the Week
Close
STAND-BY GENERATING PLANT FOR INDUSTRY
FIRST deliveries of the 1,500 selfcontained Diesel-electric generating sets, for which a special allocation of materials was sanctioned by the Ministry of Supply in March last, were given a goodwill send-off by Mr. Hamish Ferguson, secretary of the Diesel Engine Users' Association, at Leeds some days ago.
These sets, which are being built at the Leeds factories of J. and H. McLaren, Ltd., one of the oil engine manufacturers in the Associated British Oil Engines group, are being turned out at a rate of 10 sets a week until October, when the rate will be increased to 25 a week and to 80 a week in November By the beginning of next year a thousand of these sets will be giving relief to the load on the electricity supply and will be ensuring uninterrupted production in the event of a repetition of the fuel cuts experienced last winter. All sets will be delivered by road, the haulage being undertaken by Archbold's Transport, Ltd., Leeds.
LUNCHEON MEETING OF CLEARING HOUSES CONFERENCE
THE annual general meeting and luncheon of the National Conference of Road Transport Clearing Houses will be held at the Connaught Rooms, London, W.C.1, on November 6. The principal guest will be Lord Llewellin, P.C., C.B.E., M.C., formerly Parliamentary Secretary to the M.G.W.T. The opportunity will be taken to express to Lord Llewellin the thanks of the Conference for his successful intervention, whereby clearing houses secured recognition under the Transport Act. This was one of the few amendments to the Bill achieved by the House of Lords.
SUGGESTED TRAFFIC PLAN FOR GLASGOW
APLAN to improve the regulation of traffic in Glasgow, which has been drafted by the highways and planning committee, contains as its main features a ban on horse-drawn vehicles from the centre of the city, the prohibition of parking of vehicles for prescribed periods of the day in busy thoroughfares, an extension of one-way traffic control, and additional parking sites in the heart of the city.
The committee proposes to discuss the plan with the railway companies and large haulage contractors, as well as with business concerns which may be affected, before asking the corporation to confirm the proposals.
A28 EXPRESS FARES TO GO UP?
LAST week express coach operators agreed that application should be made for fares to be increased to a third more than pre-war, as compared with the present 16/ per cent. An application for a 40 per cent. increase had been forecast.
9-ft. BUS BAY IN NEW PLYMOUTH HIGHWAY ME learn that Plymouth's new northVV south highway, Armada Way, which is now under construction, will include a 9-ft. bus bay, 22-ft. footpath, dual carriageways, and a 10-ft. central reservation in its width of 150 ft.
NEW PRICES FOR MORRISCOMMERCIAL 15-20-CWT.
'OR some time the Morris-Commer cial 235-cubic-ft. capacity 15-20-cwt. van has been available with 6-in. by 18-in. tyres, and with shock absorbers, at extra cost, and it has now been decided, in the interests of production, that these extras shall become standard.
As from September 1, therefore, the price of the 15-20-cwt. chassis is £311 and the van £452, we are informed by Morris Commercial Cars, Ltd., Adderley Park, Birmingham, 8.
SECRETARY AND LEGAL ADVISER TO B.T.C.
IT is announced by the British Trans' port Commission that it has appointed Mr. Miles Beevor as chief secretary and legal adviser to the Commission. Mr. Beevor is at 'present acting chief general manager of the L.N.E.R. With• the concurrence of the directors of that company, he will be released from his present duties and take office from September 29.
NEW TEXTBOOK FOR STUDENTS THE first part of a book written espe
cially for students preparing for the examinations of the City and Guilds of London Institute (Motor Vehicles Service Mechanics) and other educational bodies, by Mr. R. W. Bent, M.I.Mech.E., who is a technical lecturer and examiner, has just been published by Sir Isaac Pitman end Sons, Ltd., at 6s. net.
GREEN LINE FARES GO UP r'HARGES on the L.P.T.B.'s Green '...-,Line coach services will be increased from their present level of 331per cent. over pre-war, to 55 per cent, above prewar, with effect from October 1, 1947. This step is consequent upon the increase in main-line railway charges to 55 per cent. above pre-war, which will come into effect on that date.
I.R.T.E. DINNER AND DANCE EMBERS of the Institute of Road Transport Engineers should note that the latest date on which tickets for the Institute's dinner and dance at the Paramount Dance Salon, Tottenham Court Road, London, W., can be guaranteed is September 20. There will be iiccommodation for a certain number of members' guests, in addition to the 40 or so haulage operators from Sweden, but, in such cases particularly, early application should be made.
1 his being the first dinner for the whole Institute, it is important that it
should be made a notable occasion. Catering for the dinner and refreshments after is being undertaken by Mecca Cafes, Ltd. Amongst the guests of the Institute will be Mr_ Henry T Duffieldpresident of the N.R.T,F., and chairman of the R.H.A., and Mrs. Duffield. IN A LINE OR TWO Some 500 Ford V8 engines from store have been sold to the Argentine.
As a result of the forthcoming fuel restrictions, the Conference of the National Chamber Of Trade, to have been held at Bridlington in October, has been cancelled.
North Western Transport Services, Ltd., East Ordsall Lane, Salford, 3, will, on September 15, occupy larger premises in connection with. its Bradford depot. They will be at Olympia Buildings. Thornton Road: Better service and spares facilities for the many A.E,C. operators in NorthWest England are provided by the transfer of the sates office of the Associated Equipment Co., Ltd., from Shudehill, Manchester. to Fleet Lane, St. Helens.
The functions of the European Central Inland Transport Organization, which was founded in 1945 by 13 countries to control railway, road, river, and canal traffic, will be handed over to the Economic Commission of the United Nations on October 1. "STANDING JOINT" MAKES PROTEST ON FUEL CUT
THE standing joint committee of the Royal Automobile Club, the Automobile Association, and the Royal Scottish Automobile Club has requested the immediate reconsideration of the abolition of the basic petrol ration. The Prime Minister is being asked to receive a deputation from the committee, when the principle of restoring the basic petrol ration will be urged.
The standing joint committee emphatically protests against the Government's action, which imposes on one section of the community a restriction of freedom out of all relation to the restriction upon the community as a whole, and producing a saving in foreign exchange entirely disproportionate to the hardship it imposes.
NEW HARVEY FROST JACK
CONTINUED popularity of the H.F. Cracker Jack and requests for a larger edition with a greater capacity, have encouraged Harvey Frost and Co., Ltd., 113, Dunmow Road, Bishop's Stortford, Herts, to produce the H.F. Big Cracker Jack, which includes all the features necessary to deal with presentday vehicle design, such as low winding position to clear overhanging chassis and bodies. With a satisfactoly screw lift from a minimum height of 61 ins , this jack has acapacity of three tons and can raise one wheel of a loaded vehicle weighing nine tons.
BRISTOL STRIKE—A STATEMENT WE learn from the Bristol Tramways YV and Carriage Co., Ltd., that the men have goie back to work, after the recent strike, on the distinct understanding that the National Tribunal Award, which was put forward as the original reason for the strike, is accepted.
Other matters raised subsequently, and which are capable of negotiation within the ambit of the latest and previous national awards are to be dealt with through the ordinary channels, but only after strike action has ceased.
The six points are apparently put forward by the Union representatives as being possible subjects for discussion, but it must be made clear, says A30 the company, that in no circumstances can such discussions vary the terms of the National Await w in existence, but can deal only with detail applications thereof.
TRANSPORT ENGINEER AVAILABLE
ATRANSPORT engineer with excellent knowledge of petrol and oil engines, complete overhauls, drawing-office practice, chassis and body design, technical records, costing, etc., requires a suitable position. Letters addressed " Transport Engineer" will be forwarded.
BRUSH ELECTRICS ON SHOW IN NOTTINGHAM
AN exhibition of Brush battery-electric vehicles will be held by Hooley's Garage, Ltd., at Greyfriar Gate, Nottingham, until September 18. On view will be 25-30-cwt., 18-22-cwt., and 10-14-cwt. vans and chassis, 18-cwt. Pony trucks, and industrial trucks of various types, as well as sectioned units, etc.
The exhibition will then go to Messrs. Sanderson and Holmes, Ltd., London Road, Derby, from September 22 to October 1, and to Messrs. J. Windsor and Sons, Nottingham Road, Mansfield, from October 6 to 15.
Tags
Organisations
:
GO UP
,
London Institute
,
Institute of Road Transport Engineers
,
United Nations
,
House of Lords
,
Diesel Engine Users' Association
,
Scottish Automobile Club
,
Automobile Association
,
Economic Commission
,
European Central Inland Transport Organization
,
Ministry of Supply
,
Royal Automobile Club
,
National Tribunal