Hub puts Independent in the pink
12th October 1985
Page 8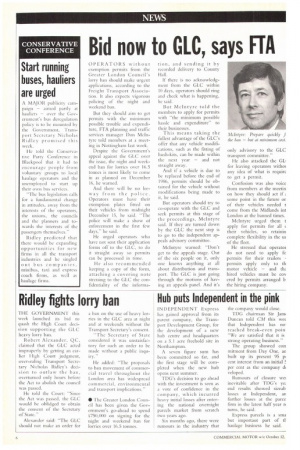 Page 8, 12th October 1985 —
Hub puts Independent in the pink
Close
INDEPENDENT Express has gained approval from its parent company, the Transport Development Group, for the development of a new hub centre and headquarters on a 5.1 acre freehold site in Northampton.
A seven figure sum has been committed so far, and the first stage will be completed when the new hub opens next Summer.
IDG'S decision to go ahead with the investment is seen as a vote of confidence in the company, which incurred heavy initial losses after entering the national overnight parcels market from scratch two years ago.
Six months ago, there were rumours in the industry that the company would close.
TDG chairman Sir Jam Duncan told CM this wee that Independent has no reached break-even pain "We are satisfied that it is strong operating business."
The group showed con mitment from Day One, an built up its present 95 pi cent interest from an initial per cent as the company di veloped.
Rumours of closure wet inevitable after TDG's ye; end results showed sizeab losses at Independent, an further losses at the parce firm in the latest half year ri turns, he said.
Express parcels is a sma but important part of tl haulage business he said.