BOOK REVIEWS
12th October 1985
Page 78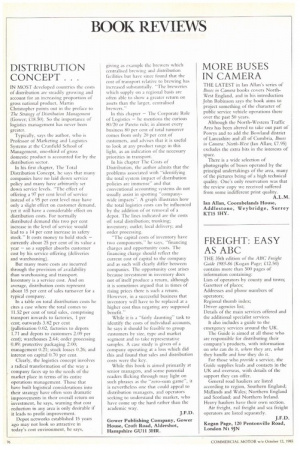 Page 78, 12th October 1985 —
BOOK REVIEWS
Close
DISTRIBUTION CONCEPT . . .
IN MOST developed countries the costs of distribution are steadily growing and account for an increasing proportion of gross national product, Martin Christopher points out in the preface to The Strategy of Distribution Management (Gower; £18.50). So the importance of logistics management has never been greater.
Typically, says the author, who is Professor of Marketing and Logistics Systems at the Cranfield School of Management, one-third of gross domestic product is accounted for by the distribution sector.
In his first chapter, The Total Distribution Concept, he says that many companies have no laid down service policy and many have arbitrarily set down service levels. "The effect of offering a 97 per cent level of service instead of a 95 per cent level may have only a slight effect on customer demand, yet it will have a considerable effect on distribution costs. For normally distributed demand this two per cent increase in the level of service would lead to a 14 per cent increase in safety stock." It costs money to hold stock — currently about 25 per cent of its value a year — so a supplier absorbs customer cost by his service offering (deliveries and warehousing).
But many more costs are incurred through the provision of availability than warehousing and transport. Inventory is a service cost. And on average, distribution costs represent about 15 per cent of sales turnover for a typical company.
In a table on total distribution costs he cites a ease where the total comes to 11.52 per cent of total sales, comprising transport inwards to factories, 1 per cent; outwards 3.82 per cent (palletisation 0.02, factories to depots 1.71 and depots to customers 2.09 per cent); warehouses 2.64; order processing 0.89; protective packaging 2.00; management 0.21; stock losses 0.26; and interest on capital 0.70 per cent.
Clearly, the logistics concept involves a radical transformation of the way a company faces up to the needs of the market place in terms of its entire operations management. Those that have built logistical considerations into their strategy have often seen dramatic improvements in their overall return on investment, he says, warning that cost reduction in any area is only desirable if it leads to profit improvement.
Depot networks established 15 years ago may not look so attractive in today's cost environment, he says, giving as example the brewers which centralised brewing and distribution facilities but have since found that the cost of transport relative to brewing has increased substantially. "The breweries which supply on a regional basis are often able to show a greater return on assets than the larger, centralised brewers."
In this chapter — The Corporate Role of Logistics — he mentions the curious 80/20 or Pareto rule; in almost every business 80 per cent of total turnover comes from only 20 per cent of customers, and advises that it is useful to look at any product range in this light, as an indication of the necessary priorities in transport.
In his chapter The Costs of Distribution, the author admits that the problems associated with "identifying the total system impact of distribution policies are immense" and that conventional accounting systems do not usually assist in spotting "companywide impacts". A graph illustrates how the total logistics costs can be influenced by the addition of or removal of a depot. The lines indicated are the costs of: total distribution; trunking; inventory; outlet; local delivery; and order processing.
"The capital costs of inventory have two components," he says, "financing charges and opportunity costs. The financing charge should reflect the current cost of capital to the company and as such will clearly differ between companies. The opportunity cost arises because investment in inventory does not of itself produce a return, although it is sometimes argued that in times of rising prices there is such a return. However, in a successful business that inventory will have to be replaced at a higher cost thus negating any supposed benefit."
While it is a "fairly daunting" task to identify the costs of individual accounts, he says it should be feasible to group customers by size, type and market segment and to take representative samples. A case study is given of a company operating at a loss which did this and found that sales and distribution costs were the key.
While this book is aimed primarily at senior managers, and some potential readers flicking through may light on such phrases as the "zero-sum game", it is nevertheless one that could appeal to distribution managers, and operators seeking to understand the market, who have conic up the hard rather than the academic way.
J.F.D.
Gower Publishing Company, Gower House, Croft Road, Aldershot, Hampshire GUll 3HR.