tesidents fight back
12th October 1985
Page 7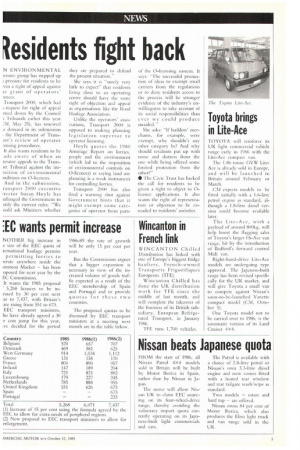 Page 7, 12th October 1985 —
tesidents fight back
Close
N ENVIRONMENTAL -essure group has stepped up ; pressure for residents to be yen a right of appeal against IC grant of operators' :ences.
Transport 2000, which had ; request for right of appeal rued down by the Council Tribunals earlier this year :AL May 25), has renewed ,e demand in its submission the Department of Transart's review of operator :ensing procedures.
It also wants residents to be .ade aware of when an aerator appeals to the Tramart Tribunal against the imasition of environmental inditions on 0-licences.
And in the submission, ransport 2000 executive irector Susan Hoyle has iallenged the Government to stify the current rules. "We ould ask Ministers whether
they are prepared to defend the present situation.''
• She says it is "surely very little to expect" that residents living close to an operating centre should have the same right of objection and appeal as organisations like the Road laulage Association.
Unlike the operators' associations, Transport 2000 is opposed to making planning legislation superior to operator licensing.
Hoyle quotes the 1980 Armitage Report on lorries. people and the environment (which led to the imposition of environmental controls on 0-licences) as saying land use planning is a weak instrument for controlling lorries.
Transport 2000 has also fired a warning shot against Government hints that it might exempt some categories of operator from parts of the 0-licensing sustem. It says: "The successful promodon of ideas to exempt small carriers from the regulations or to deny residents access to the process will be stronger evidence of the industry's unwillingness to take account of its social responsibilities than ever we could produce unaided."
She asks: "If builders' merchants, for example, were exempt, why shouldn't any other category be? And why should residents put up with noise and distress from the one while being offered sonic limited protection from the other?"
• 1 lie Civic Trust has backed the call for residents to be given a right to object to 0licence applications. It also wants the right of representation or objection to be extended to residents' societies.