IC wants permit increase
12th October 1985
Page 7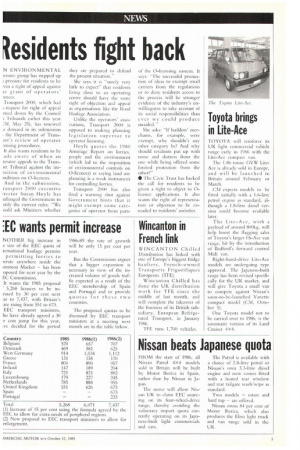 Page 7, 12th October 1985 —
IC wants permit increase
Close
NOTHER big increase in e size of the EEC quota of ternational haulage permits
permitting lorries to ierate anywhere inside the ommon Market — has been .oposed for next year by the EC Commission.
It wants the 1985 proposal 5,268 licences to be incased by 30 per cent next ar to 7,437, with Britain's are rising from 551 to 673. EEC transport ministers, ho have already agreed a 30 acent jump for this year, Lye decided for the period 1986-89 the rate of growth will be only 15 per cent per year.
But the Commission argues that a bigger expansion is necessary in view of the increased volume of goods traffic expected as a result of the EEC membership of Spain and Portugal and to provide quotas for these two countries.
The proposed quotas to be discussed by EEC transport ministers at a meeting next month are in the table below.