Lorries' record year
12th October 1985
Page 6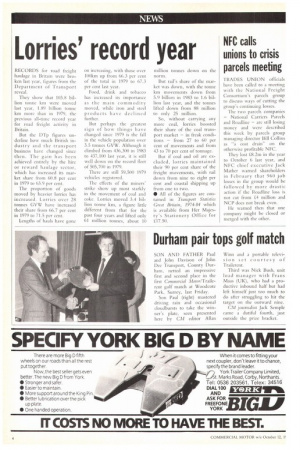 Page 6, 12th October 1985 —
Lorries' record year
Close
RECORDS for road freight haulage in Britain were broken last year, figures from the Department of 'Transport reveal.
They show that 103.8 billion comic km were moved last year, L89 billion tonne km more than in 1979, the previous all-time record year for road freight activity in Britain.
But the DTp figures underline how much British industry and the transport business have changed since then. The gain has been achieved entirely by the hire or reward haulage sector, which has increased its market share from 60.8 per cent in 1979 to 63.9 per cent.
The proportion of goods moved by heavier lorries has increased. Lorries over 28 tonnes GVW have increased their share from 66.7 per cent in 1979 to 71.5 per cent.
Lengths of hauls have gone on increasing, with those over 100km up from 66.3 per cent of the total in 1979 to 67.3 per cent last year.
Food, drink and tobacco has increased its importance as the main commodity moved, while iron and steel products have declined further.
But perhaps the greatest sign of how things have changed since 1979 is the fall in the vehicle population over 3.5 tonnes GVW. Although it climbed from 436,300 in 1983 to 437,100 last year, it is still well down on the record fleet of 505,700 in 1979.
There are still 59,500 1979 vehicles registered.
The effects of the miners' strike show up most starkly in the movement of coal and coke. Lorries moved 3.4 billion tonne km, a figure little different from that for the past four years and lifted only 61 million tonnes, about 10 million tonnes down on the norm.
But rail's share of the market was down, with the tonne km movements down from 5.9 billion in 1983 to 1.6 billion last year, and the tonnes lifted down from 88 million to only 25 million.
So, without carrying any more coal, lorries boosted their share of the coal transport market — in freak conditions — from 27 to 60 per cent of movements and from 43 to 70 per cent of tonnage.
But if coal and oil are excluded, lorries maintained their 90 per cent share of the freight movements, with rail down from nine to eight per cent and coastal shipping up from one to two.
• All of the figures are contained in Transport Statistics Great Britain, 1974-84 which is available from Her Majesty's Stationery Office for