TNT for Shah paper?
12th October 1985
Page 5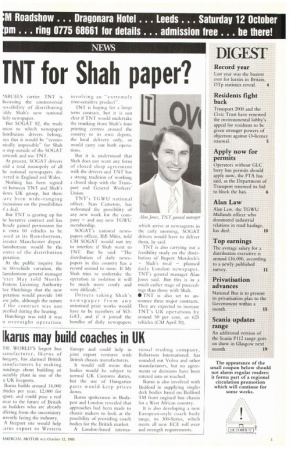 Page 5, 12th October 1985 —
TNT for Shah paper?
Close
'ARC:ELS carrier TNT is liscussing the controversial iossibility of distributing riddy Shah's new national laily newspaper.
But SOGAT 82, the trade inion to which newspaper listribution drivers belong, ays that it would be "econonically impossible" for Shah o step outside of the SOGAT letwork and use TNT.
At present, SOGAT drivers iold a total monopoly of all he national newspapers de[vered in England and Wales.
Nothing has been signed 'et between TNT and Shah's Jews UK group, but there tave been wide-ranging liscussions on the possibilities ■ 1 a deal.
But TNT is gearing up for he lucrative contract and has lready gained permission for n extra 60 vehicles to be iased at its Ramsbottom, ;reater Manchester depot. tamsbottom would be the entre of the distribution peration.
At the public inquiry for he 60-vehicle variation, the tamsbottom general manager 'eter May told NorthCestern Licensing Authority
toy Hutchings that the new .peration would provide 140 ew jobs, although the nature f the contract was not pecified during the hearing. Hutchings was told it was n overnight operation.
involving an "extremely time-sensitive product'.
TNT is hoping for a longterm contract, but it is not clear if TNT would undertake the trunking front Shah's four printing centres around the country to its own depots, the local delivery only, or would carry our both operations.
But it is understood that Shah does not want any form of closed shop agreement with the drivers and TNT has a strong tradition of working a closed shop with the Transport and General Workers' Union.
TNT's TGWU national officer, Stan Cameron, has welcomed the possibility of any new work for the company — and any new TGWU membership.
SOGAT's national newspapers officer, Bill Miles, told CM SOGAT would not try to interfere if Shah went to TNT. But he said: "The distribution of daily news papers in this country has a record second to none. If Mr Shah tries to undertake the operation in isolation it will be much more costly and very difficult."
Drivers taking Shah's newspaper from any unionised print works would have to be members of SOGAT, and if it joined the bundles of daily newspapers which arrive at newsagents in the early morning. SOGAT drivers would have to deliver them, he said.
TNT is also carrying out a feasibility study on the distribution of Rupert Murdoch's — Shah's rival — planned daily London new TNT's general manager Alan Jones said. But this is in a much earlier stage of proceedings than those with Shah.
• TNT is also set to announce three major contracts. They are expected to increase TNT's UK operations by around 50 per cent, or 625 vehicles (CM April 20).