Ikarus may build coaches in UK
12th October 1985
Page 5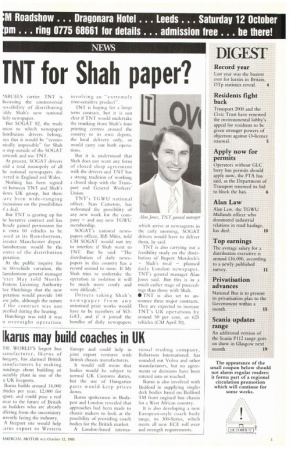 Page 5, 12th October 1985 —
Ikarus may build coaches in UK
Close
HE WORLD'S largest bus lanufacturer, [Icarus of lungary, has alarmed British ianufacturers by making >undings about building an isembly plant in one of the x UK freeports.
Ikarus builds around 14,000 thicles per year, 12,000 for (port, and could pose a real treat to the future of British us builders who are already iffering from the uncertainty trrently facing the industry. A freeport site would help :arus export to Western Europe and could help in joint export ventures with British chassis manufacturers.
It would still mean that bodies would be subject to normal UK Customs duties, but the use of Hungarian parts would keep prices down.
Ikarus spokesmen in Budapest and London revealed that approaches had been made to chassis makers to look at the possibility of providing coach bodies for the British market.
A London-based interna tional trading company, Robertson International, has sounded out Volvo and other manufacturers, hut no agreements or decisions have been entered into or reached.
lkarus is also involved with Bedford in supplying singledeck bodies based on Bedford TM front engined bus chassis for a West African country.
It is also developing a new European-style coach body range, its 3(X)-Series, which meets all new EC:E roll over and strength requirements.