DIGEST
12th October 1985
Page 5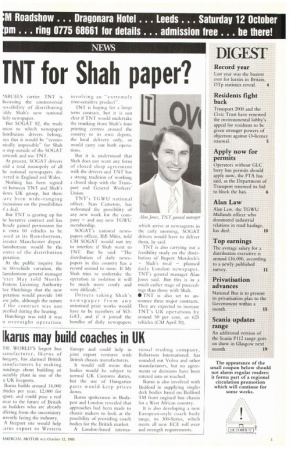 Page 5, 12th October 1985 —
DIGEST
Close
Record year
Last year was the busiest ever for lorries in Britain,
DTp statistics reveal. 4
Residents fight back
Transport 2000 and the Civic Trust have renewed the environmental lobby's appeal for residents to be given stronger powers of objection against 0-licence renewal.
Apply now for permits
Operators without GLC lorry ban permits should apply now, the ETA has said, as the Department of Transport renewed its bid
to block the ban. 6
Alan Law
Alan Law, the TGWU Midlands officer who dominated industrial relations in road haulage, has died. 10
Top earnings
The average salary for a distribution executive is around 06,000, according to a newly published survey. 11
Privatisation advances
National Bus is to present its privatisation plan to the Government within a
month. 15
Scania updates range
An additional version of the Scania P112 range goes on show in Glasgow next
month. 19
The appearance of the small coupon below should not alarm regular readers: it forms part of a regional circulation promotion which will continue for some weeks.