EDITORIAI,
12th October 1985
Page 4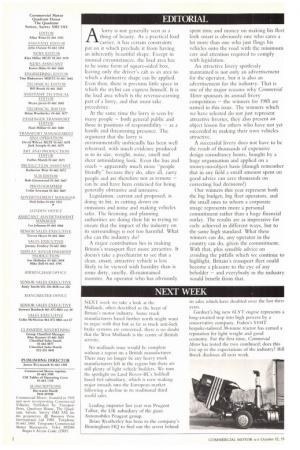 Page 4, 12th October 1985 —
EDITORIAI,
Close
Alorry is not generally seen as a thing of beauty. As a practical load carrier, it has certain constraints put on it which preclude it from having an inherently beautiful shape. Except in unusual circumstances, the load area has to be sonic, form of square-sided box, leaving only the driver's cab as an area to which a distinctive shape can be applied. Even then, there is precious little space in which the stylist can express himself, it is the load area which is the revenue-earning part of a lorry, and that must take precedence.
At the same time the lorry is seen by many people — both general public and those in positions of responsibility — as a hostile and threatening presence. The argument that the lorry is environmentally unfriendly has been well rehearsed, with much evidence produced as to its size, weight, noise, smell and sheer intimidating look. Even the bus and coach — apparently much more "people friendly" because they do, after all, carry people and arc therefore not as remote — can be and have been criticised for being generally obtrusive and intrusive.
Legislation, current and proposed, is doing its bit, in cutting down on emissions and noise and making vehicles safer. The licensing and planning authorities are doing their bit in trying to ensure that the impact of the industry on its surroundings is not too harmful. What else can the industry do?
A major contribution lies in making Britain's transport fleet more attractive. It doesn't take a psychiatrist to see that a clean, smart, attractive vehicle is less likely to be viewed with hostility than is some dirty, smelly, ill-maintained monster. An operator who has obviously spent time and money on making his fleet look smart is obviously one who cares a lot more than one who just flings his vehicles onto the road with the minimum care and attention required to comply with legislation.
An attractive livery spotlessly maintained is not only an advertisement for the operator, but it is also an advertisement for the industry. 'That is one of the major reasons why Commercial Motor sponsors its annual livery competition — the winners for 1985 are named in this issue. The winners which we have selected do not just represent attractive liveries, they also present an object lesson for others who have not yet succeeded in making their own vehicles attractive.
A successful livery does not have to be the result of thousands of expensive design consultancy hours, bought by a huge organisation and applied on a money-no-object basis (though remember that in any field a small amount spent on good advice can save thousands on correcting bad decisions!) Our winners this year represent both the big budget, big fleet operators, and the small ones to whom a corporate image represents more a personal commitment rather than a huge financial outlay. The results are as impressive for each: achieved in different ways, but to the same high standard. What these winners can do, any operator in the country can do, given the commitment. With that, plus sensible advice on avoiding the pitfalls which we continue to highlight, Britain's transport fleet could become a pleasure to the eye of any beholder — and everybody in the industry would benefit from that.