BIRD'S-EYE VIEW
12th October 1985
Page 39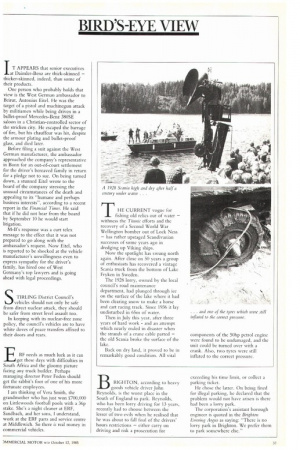 Page 39, 12th October 1985 —
BIRD'S-EYE VIEW
Close
Keywords :
Sandbach
,
Edwin Foden, Sons & Co.
,
Erf
,
Truck
,
Scania
,
Commercial Vehicle
,
Man Se
,
Lorry
,
Mercedes-benz
,
Parking
IT APPEARS that senior executives at Daimler-Benz are thick-skinned — thicker-skinned, indeed, than some of their products.
One person who probably holds that view is the West German ambassador to Beirut, Antonius Eitel. He was the target of a pistol and machinegun attack by militiamen while being driven in a bullet-proof Mercedes-Benz 380SE saloon in a Christian-controlled sector of the stricken city. He escaped the barrage of fire, but his chauffeur was hit, despite the armour plating and bullet-proof glass, and died later.
Before filing a suit against the West German manufacturer, the ambassador approached the company's representative in Bonn for an out-of-court settlement for the driver's bereaved family in return for a pledge not to sue. On being turned down, a stunned Eitel wrote to the board of the company stressing the unusual circumstances of the death and appealing to its "humane and perhaps business interests", according to a recent report in the Financial Times. He said that if he did not hear from the board by September 10 he would start litigation.
M-B's response was a curt telex message to the effect that it was not prepared to go along with the ambassador's request. Now Eitel, who is reported to be shocked at the vehicle manufacturer's unwillingness even to express sympathy for the driver's family, has hired one of, West Germany's top lawyers and is going ahead with legal proceedings.
STIRLING District Council's vehicles should not only be safe from direct nuclear attack, they should be safer from street level assault too.
In keeping with its nuclear-free zone policy, the council's vehicles are to have white doves of peace transfers affixed to their doors and rears.
F4
, RF needs as much luck as it can
F4
get these days with difficulties in get these days with difficulties in South Africa and the gloomy picture facing any truck builder. Perhaps managing director Peter Foden should get the rabbit's foot of one of his more fortunate employees.
I am thinking of Vera Smith, the grandmother who has just won £700,000 on Littlewoods football pools with a 36p stake. She's a night cleaner at ERF, Sandbach, and her sons, I understand, work at the ERF parts and service centre at Middlcwich. So there is real money in commercial vehicles. THE CURRENT vogue for fishing old relics out of water — withness the Titanic efforts and the recovery of a Second World War Wellington bomber out of Lock Ness — has rather upstaged Scandivanian successes of some years ago in dredging up Viking ships.
Now the spotlight has swung north again. After close on 50 years a group of enthusiasts has recovered a vintage Scania truck from the bottom of Lake Fryken in Sweden.
The 1928 lorry, owned by the local council's road maintenance department, had plunged through ice on the surface of the lake where it had been clearing snow to make a horse and cart racing track. Since 1936 it lay undisturbed in 65m of water.
Then in July this year, after three years of hard work and an attempt which nearly ended in disaster when the strands of a crane cable parted — the old Scania broke the surface of the lake.
Back on dry land, it proved to be in remarkably good condition. All vital
BRIGHTON, according to heavy goods vehicle driver John Reynolds, is the worst place in the South of England to park. Reynolds, who has been lorry driving for 13 years, recently had to choose between the lesser of two evils when he realised that he was about to fall foul of the drivers' hours restrictions — either carry on driving and risk a prosecution for
components of the 50hp petrol engine were found to be undamaged, and the unit could be turned over with a crank. Also, two tyres were still inflated to the correct pressure.
exceeding his time limit, or collect a parking ticket.
He chose the latter. On being fined for illegal parking, he declared that the problem would not have arisen is there had been a lorry park.
The corporation's assistant borough engineer is quoted in the Brighton Evening Argus as saying: "There is no lorry park in Brighton. We prefer them to park somewhere else."