ZF PTO. Nothing less
12th October 1985
Page 38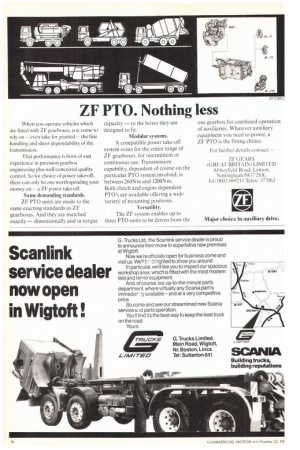 Page 38, 12th October 1985 —
ZF PTO. Nothing less
Close
When you operate vehicles which are fitted with ZF gearboxes, you come to rely on — even take for granted — the fine handling and sheer dependability of the transmission.
That performance is born of vast experience in precision gearbox engineering plus well conceived quality control. So for choice of power take-off, there can only be one worth spending your money on — a ZF power take-off.
Same demanding standards.
ZF PTO units are made to the same exacting standards as ZF gearboxes. And they are matched exactly — dimensionally and in torque
capacity — to the boxes they are designed to fit.
Modular systems.
A compatible power take-off system exists for the entire range of ZF gearboxes, for intermittent or continuous use. Transmission capability, dependent of course on the particular PTO system involved, is between 260Nm and 1200Nm. Both clutch and engine dependent PTO's are available offering a wide variety of mounting positions.
Versatility.
The ZF system enables up to three PTO units to be driven from the one gearbox for combined operation of auxiliaries. Whatever auxiliary equipment you need to power, a ZF PTO is the fitting choice.
For further details contact:—
ZF GEARS (GREAT BRITAIN) LIMITED Abbey field Road, Lemon, Nottingham NG7 2SX. Tel: 0602 869211 Telex: 377062