I I HREE MONTI IS ago Nissan added a new dimension
12th October 1985
Page 29
Page 30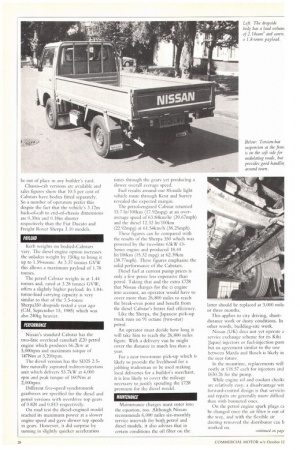 Page 32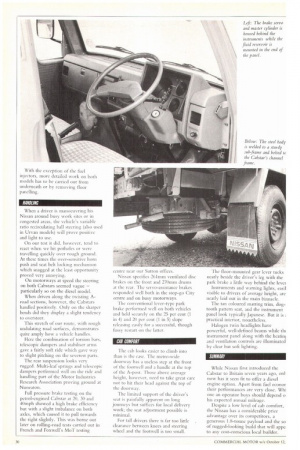 Page 29, 12th October 1985 —
I I HREE MONTI IS ago Nissan added a new dimension
Close
to its range of commercial vehicles arketed in Britain by introducing a :sel engine option for Cabstar and rvan models.
The number of sales of diesel-engined lbstars since then underlines the mpany's belief that this sector of the arket allows it considerable potential. Last year Nissan sold almost 2,(X00 Ibstars petrol here — not quite all of 3se that were imported but certainly a ry high proportion.
New registrations for this year up to end of August follow a similar ttern to 1984 with 1,258 units, but the 2 diesel units among them were sold the last two months of that period. Probably the main reason why Nissan a little difficulty in achieving its 7,000iicle annual total sales quota in the iited Kingdom is price. Backed by Adwide marketing. Nissan's huge )duction volume enables it to offer aides at very attractive rates.
While the new diesel version costs ire than the petrol-engined version it I undersells the competition by an )rmous margin.
..ist prices of i:5,474 for the petrolOiled model and 0,202 for the diesel .sion (both excluding VATplace th of them more than £2,04.) below
jr nearest respective competitors. So as VW LT 31 models arc concerned difference is closer to 0,000. iowever, defining the sector of the rket in which the Cabstar sits is icult as this model is the only one at t weight that is marketed complete h a factory-built steel body.
Xfith dropsides and hinged tail gate it a 3.12m-long load platform with a
acity of 2.14m3 (2.8yd). It is bolted a durable looking subframe and apart in not tipping it looks the sort of gh working vehicle that would not
be out of place in any builder's yard.
Chassis-cab versions are available and sales figures show that 10.5 per cent of Cabstars have bodies fitted separately. So a number of operators prefer this despite the fact that the vehicle's 3.12m back-of-cab to end-of-chassis dimensions are 0.30m and 0.18m shorter respectively than the Fiat Ducat° and Freight Rover Sherpa 3.10 models.
PAYLOAD Kerb weights on bodied-Cabstars vary. The diesel engine option increases the unladen weight by 150kg to bring it up to 1.59-tonne. At 3.37 tonnes GVW this allows a maximum payload of 1.78 tonnes.
The petrol Cabstar weighs in at 1.4-4 tonnes and, rated at 3.28 tonnes GVW, offers a slightly higher payload. Its 1.84tonne-load carrying capacity is very similar to that of the 3.5-tonne Sherpa350 dropside tested a year ago (CM, September 15, 1985) which was also 240kg heavier.
PERFORMANCE Nissan's standard Cabstar has the two-litre overhead camshaft Z20 petrol engine which produces 66.2kw at 5,000rpm and maximum torque of 147Nm at 3,200rpm.
The diesel version has the SD25 2.5litre naturally aspirated indirect-injection unit which delivers 53.7kW at 4,000 rpm and peak torque of 160Nm at 2,00Orpm.
Different five-speed synchromesh gearboxes are specified for the diesel and petrol versions with overdrive top gears of 0.820 and 0.813 respectively.
On road test the diesel-engined model reached its maximum power at a slower engine speed and gave slower top speeds in gears. However, it did surprise by turning in slightly quicker acceleration times through the gears yet producing a slower overall average speed.
Fuel results around our 85-mile light vehicle route through Kent and Surrey revealed the expected margin.
The petrol-engined Cabstar returned 15.7 lit/100km (17.92mpg) at an overaverage speed of 63.84km/hr (39.67mph) and the diesel 12.32 lit/100km (22.92mpg) at 61.54km/h (38.25mph).
These figures can be compared with the results of the Sherpa 350 which was powered by the two-litre 63kW 0Series engine and produced 18.44 lit/100km (15.32 mpg) at 62.39km (38.77mph). These figures emphasise the solid performance of the Cabstars.
Diesel fuel at current pump prices is only a few pence less expensive than petrol. Taking that and the extra £728 that Nissan charges for the ci engine into account, an operator would have to cover more than 26,800 miles to reach the break-even point and benefit from the diesel Cabstar's better fuel efficiency.
Like the Sherpa, the Japanese pick-up truck runs on 91 octane (two-star) petrol.
An operator must decide how long it will take him to reach the 26,800 miles figure. With a delivery van he might cover the distance in much less than a year.
For a near two-tonne pick-up which is likely to provide the livelihood for a jobbing tradesman or be used making local deliveries for a builder's merchant, it is less likely to cover the mileage necessary to justify spending the £728 premium For the diesel model.
MAINTENANCE Maintenance charges must enter into the equation, too. Although Nissan recommends 6,000 miles six-monthly service intervals for both petrol and diesel models, it also advises that in certain conditions the oil filter on the latter should be replaced at 3,000 mile! or three months.
This applies to city driving, shortdistance work or dusty conditions. In other words, building-site work.
Nissan (UK) does not yet operate a service exchange scheme for its Kiki (japan) injectors or fuel-injection pum but an agreement similar to the one between Mazda and Bosch is likely in the near future.
In the meantime, replacements will costly at £18.57 each for injectors and ',650.26 for the pump.
While engine oil and coolant checks are relatively easy, a disadvantage wit forward-control design is that servicin and repairs are generally more difficul than with bonneted ones.
On the petrol engine spark plugs ca be changed once the air filter is out of the way, and with the flexible air ducting removed the distributor can b
worked on. continued on page
With the exception of the fuel injectors, more detailed work on both models has to be carried out from underneath or by removing floor panelling.
HANDLING When a driver is manoeuvring his Nissan around busy work sites or in congested areas, the vehicle's variable ratio recirculating ball steering (also used in Urvan models) will prove positive and light to use.
On our test it did, however, tend to react when we hit potholes or were travelling quickly over rough ground. At these times the over-sensitive horn push and seat belt locking mechanism which snagged at the least opportunity proved very annoying.
On motorways at speed the steering on both Cabstars seemed vague — particularly so on the diesel model.
When driven along the twisting Aroad sections, however, the Cabstars handled positively. Only on the sharper bends did they display a slight tendency to oversteer.
This stretch of our route, with rough undulating road surfaces, demonstrates quite amply how a vehicle handles.
Here the combination of torsion bars, telescopic dampers and stabiliser arms gave a fairly soft ride which gave way to slight pitching on the severest parts.
The rear suspension looks very rugged. Multi-leaf springs and telescopic dampers performed well on the ride and handling part of the Motor Industries Research Association proving ground at Nuneaton.
Full pressure brake testing on the petrol-engined Cahstar at 20, 30 and 40mph showed a high brake efficiency but with a slight imbalance on both axles, which caused it to pull towards the right slightly. This was borne out later on rolling-road tests carried out in French and Foxwell's MoT testing centre near our Sutton offices.
Nissan specifies 261min ventilated disc brakes on the front and 270mm drums at the rear. The servo-assistance brakes responded well both in the stop-go City centre and on busy motorways.
The conventional lever-type park brake performed well on both vehicles and held securely on the 25 per cent (1 in 4) and 20 per cent (1 in 5) slope releasing easily for a successful, though fussy restart on the latter.
CAB COMFORT The cab looks easier to climb into than is the case. The metre-wide doorway has a useless step at the front of the fimtwell and a handle at the top of the A-post. Those above average height, however, need to take great care not to hit their head against the top of the doorway.
The limited support of the driver's seat is painfully apparent on long journeys but suffices for local delivery work: the seat adjustment possible is minimal.
For tall drivers there is far too little clearance between knees and steering wheel and the footwell is too small. The floor-mounted gear lever tucks neatly beside the driver's leg with the park brake a little way behind the lever instruments and warning lights, easil visible to drivers of average height, are neatly laid out in the main binnacle.
The tan coloured matting trim, dogtooth pattern seat, and the instrument panel look typically Japanese. But it is practical interior, nonetheless.
Halogen twin headlights have powerful, well-defined beams while du instrument panel along with the heatini and ventilation controls are illuminated by clear but soft lighting.
SUMMARY While Nissan first introduced the Cabstar to Britain seven years ago, on1 now has it seen fit to offer a diesel engine option. Apart from fuel econor their performances are very close. Whi one an operator buys should depend o his expected annual mileage.
Despite a low level of cab comfort, the Nissan has a considerable price advantage over its competitors, a generous 1.8-tonne payload and the so of rugged-looking build that will appe: to any cost-conscious local builder.