LUCAS CAV'S 1)-Wax 300 diesel fuel heater first displayed at
12th October 1985
Page 20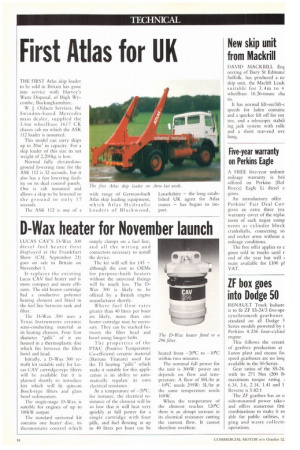 Page 20, 12th October 1985 —
LUCAS CAV'S 1)-Wax 300 diesel fuel heater first displayed at
Close
the Frankfurt Show (CM, September 21) goes on sale in Britain on November 1.
D-Wax heater for November launch
It replaces the existing Lucas CAV fuel heater and is more compact and more efficient. 'The old heater cartridge had a conductive polymer heating dernent and fitted in the fuel line between tank and filter.
The 1)-Wax 300 uses a Texas Instruments ceramic semi-conducting material as its heating element. Four lcni diameter "pills" of it are housed in a thermoplastic disc which fits between the filter bowl and head.
Initially, a D-Wax 300 retrofit kit suitable only for Lucas CAV cartridge-type filters will be available but it is planned shortly to introduce kits which will fit spin-on Bosch-type fitters and glass bowl sedimentors.
The single-stage 1)-Wax is suitable for engines of up to 100kW output.
The standard universal kit contains one heater disc, its thermostatic control which simply clamps on a fuel line, and all the wiring and connectors necessary to install the device.
The kit will sell for £45 — although the cost to OEMs for purpose-built heaters without the universal fixings will be much less. The 1)Wax 300 is likely to be offered by a British engine manufacturer shortly.
Where fuel flow rates greater than 40 litres per hour are likely, more than one heater cartridge may be necessary. They can be stacked between the filter head and bowl using longer bolts.
The properties of the PT&C (Positive Temperature Co-efficient) ceramic material (Barium Titanate) used for the TI heating "pills" which make it suitable for this application is its ability to automatically regulate its own electrical resistance.
At a temperature of —20°C, for instance, the electrical resistance of the element will be so low that it will heat very quickly at full power for a single cartridge with four pills, and fuel flowing at up to 40 litres per hour can be
heated from —20°C to —10°C within two minutes.
The nominal full power for the unit is 300W: power use depends on flow and temperature. A flow of 50L/hr at —10°C needs 299W: 5L/hr at the same temperature needs 168W.
When the temperature of the element reaches 120°C there is an abrupt increase in its electrical resistance cutting the current flow. It cannot therefore overheat.