Chairman questions coach firm's record
12th October 1985
Page 17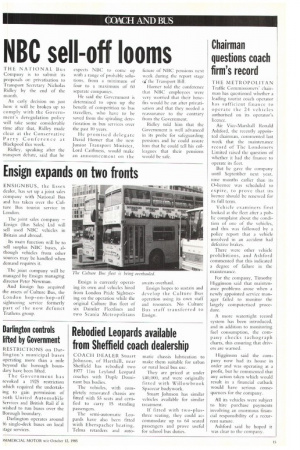 Page 17, 12th October 1985 —
Chairman questions coach firm's record
Close
THE METROPOLITAN Traffic Commissioners' chairman has questioned whether a leading tourist coach operator has sufficient finance to operate the 24 vehicles authorised on its operator's licence.
Air Vice-Marshall Ronald Ashford, die recently appoin ted chairman, commented last week that the maintenance record of The Londoners Limited raised the question of whether it had the finance to operate its fleet.
But he gave the company until Septernber next year, nine months earlier than its 0-licence was scheduled to expire, to prove that its licence should be renewed for its full term.
Vehicle examiners first looked at the fleet after a pub lic complaint about the condi tion of one of the vehicles, and this was followed by a police report that a vehicle involved in an accident had defective brakes, There were other vehicle prohibitions, and Ashford commented that this indicated a degree of failure in the maintenance.
For the company, Timothy Higginson said that mainten ance problems arose when a newly appointed service manager failed to monitor the largely computerised procedure.
A more watertight record system has been introduced, and in addition to monitoring fuel consumption, the cornpan y checks tachograph charts, this ensuring that drivers are warned.
Higginson said the company now had its house in order and was operating at a profit, but he commented that any action taken which would result in a financial cutback would have serious consequences for the company.
All its vehicles were subject to hire purchase payments involving an enormous financial responsibility of a recurrent nature.
Ashford said he hoped it was clear to the company.