PTEs and LRT do best says Government
12th October 1985
Page 16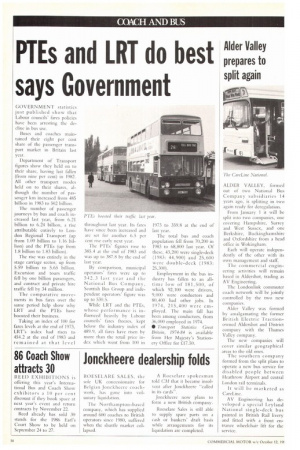 Page 16, 12th October 1985 —
PTEs and LRT do best says Government
Close
GOVERNMEN.1 statistics just published show that Labour councils' fares policies have been arresting the decline in bus use.
Buses and coaches maintained their eight per cent share of the passenger transport market in Britain last year.
Department of Transport figures show they held on to their share, having last fallen (from nine per cent) in 1982. All other transport modes held on to their shares, although the number of passenger km increased from 485 billion in 1983 to 502 billion.
The number of passenger journeys by bus and coach increased last year, from 6.21 billion to 6.24 billion, a rise attributable entirely to London Regional Transport (up from 1.09 billion to 1.16 billion) and the PTEs (up from 1.8 billion to 1.83 billion).
The rise was entirely in the stage carriage sector, up from 5.59 billion to 5.63 billion. Excursion and tours traffic fell by one billion passengers, and contract and private lure traffic fell by 34 million.
'Hie comparative movements in bus fares over the same period help show why LRT and the PTEs have boosted their business.
Taking an index of 100 for fares levels at the end of 1973. LRT's index had risen to 454.2 at the end of' 1983 and remained at that level throughout last year. Its fares have since been increased and are set for another 6.5 per cent rise early next year.
The PTEs' figures rose to 385.4 at the end of 1983 and was up to 387.8 by the end of last year.
By comparison, municipal operators' fares were up to 542.3 last year and the National Bus Company, Scottish Bus Group and independent operators' figure was up to 530.5.
While LIIT and the PTEs, whose performance is influenced heavily by Labour councils' fares freezes, kept below the industry index of 489.9, all fares have risen by more than the retail price index which went from 100 in 1973 to 359.8 at the end of last year.
The total bus and coach population fell from 70,2(X) in 1983 to 68.8(X) last year. Of these, 43,200 were single-deck (1983: 44,900) and 25,600 were double-deck (1983: 25,3(X)).
Employment in the bus industry has fallen to an alltime low of 181,500, of which 92,100 were drivers, 9,0(X) were conductors and 80,400 had other jobs. In 1974, 215,400 were employed. The main fall has been among conductors, from 36,(X)0 employed in 1974.
• liansport Statistics Great Britain, 1974-84 is available from Her Majesty's Stationery Office for £17.50.