MP wants beet lorries curbed
12th October 1985
Page 14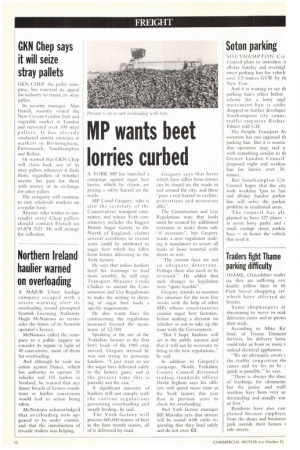 Page 14, 12th October 1985 —
MP wants beet lorries curbed
Close
A YORK MP has launched a campaign against sugar beet lorries which he claims are posing a safety hazard on the roads.
MP Conal Gregory, who is also the secretary of the Conservatives' transport committee, and whose York constituency includes the biggest British Sugar factory in the North of England, claims several accidents in recent years could be attributed to sugar beet which has fallen from lorries delivering to the York factory.
He says that unless hauliers heed his warnings to load more sensibly, he will urge '1-ransport Minister Lynda Chalker to amend the Construction and Use Regulations to make the netting or sheeting of sugar beet loads a specific requirement.
He also wants fines for contravening the regulations increased beyond the maximum of s:2,000.
Speaking at the site of the Yorkshire factory as the first lorry loads of the 1985 crop arrived, Gregory stressed he was not trying to persecute hauliers. "I just want to see the sugar beet delivered safely to the factory gates, and at the present time this is patently not the case."
A significant minority of hauliers will not comply with the current regulations governing overloading and unsafe loading, he said.
The York factory will process 600,000 tonnes of beet in the four month season, all of it delivered by road. Gregory says that beets which have fallen from lorries can be found on the roads in and around the city, and these "pose a real hazard to cyclists, pedestrians and motorists The Construction and Use Regulations state that loads must be secured by additional restraints to make them safe "if necessary", but Gregory wants a new regulation making it mandatory to secure all loads of loose material with sheets or nets.
"The current fines are not an adequate deterrent. Perhaps these also need to be reviewed." He added that such changes to legislation were "quite feasible".
Gregory intends to monitor the situation for the next few weeks with the help of other MPs whose constituencies contain sugar beet factories, before making a decision on whether or not to take up the issue with the Government.
"But I hope hauliers will act in the public interest and that it will not be necessary to bring in the new regulations," he said.
ln addition to Gregory's campaign, North Yorkshire County Council divisional trading standards officer David Ingham says his officers will spend more time at the York factory this year than in previous years to check for overloading.
And York factory manager Bill Marsden says that drivers will be issued with cards requesting that they load safely and do not over fill..