RHA ties up phone deal as Cargofax finally closes
12th October 1985
Page 13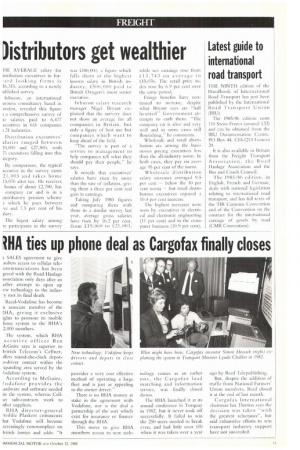 Page 13, 12th October 1985 —
RHA ties up phone deal as Cargofax finally closes
Close
SALES agreement to give auliers access to cellular teleornmunications has been greed with the Road Haulage (ssociation only days after an arlier attempt to open up ew technology to the indus7y met its final death,
Racal-Vodafone has become 11 associate member of the lHA, giving it exclusive ights to promote its mobile hone system to the RHA's 2,0(X) members.
The system, which RHA xecutive officer Ben AcGuire says is superior to Iritish Telecom's Cellnet, offers round-the-clock depoto-driver contact within the xpanding area served by the rodafone system.
According to McGuire, rodafone provides the Lardware and software needed or the system, whereas Celllet sub-contracts work to other suppliers.
RHA director-general ;reddie Plaskett comments hat Vodafone will become ricreasingly commonplace on kitish lorries and adds: "It provides a very cost effective method of operating a large fleet and is just as appealing to the owner driver."
There is no RHA money at stake in the agreement with Vodafonc, nor is the deal a partnership of the sort which exist for insurance or finance through the RHA.
This move to give RHA members access to new tech
nology conies as an earlier one, the Cargofax load matching and information service, was finally closed down.
The RHA launched it at its annual conference in Torquay in 1982, but it never took off successfully. It failed to win the 250 users needed to break even, and had little over 100 when it was taken over a year ago by Reed Telepublishing.
But, despite the addition of traffic iron] National Farmers' Union members, Reed closed it at the end of last month.
Cargofax International chairman lan Thomas says the decisions was taken with the greatest reluctance'', but said exhaustive efforts to win transport industry support have not succeeded.