Clistributors get wealthier
12th October 1985
Page 13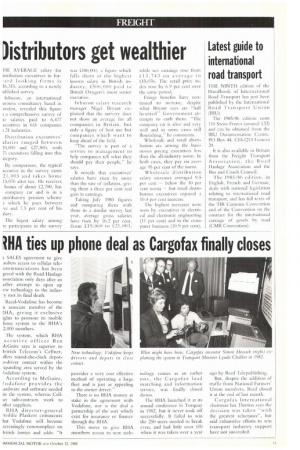 Page 13, 12th October 1985 —
Clistributors get wealthier
Close
HE AVERAGE salary for istribution executives in forrard looking firms is 16,315, according to a newly ublished survey.
Inbucon, an international usiness consultancy based in ondon, revealed this figure a comprehensive survey of le salaries paid to 6,477 Kecutives in 616 companies 21 industries.
Distribution executives' alaries ranged between 10,000 and 1:27,300, with 71 executives falling into this ate gory.
By comparison, the typical xecutive in the survey earns 21,003 and takes home 15,076 after tax. He receives bonus of about 1:2,700, has company car and is in a ontributory pension scheme 3 which he pays between ye and 7.5 per cent of his alary.
The higest salary among le participants in the survey was 080,000, a figure which falls short of the highest known salary in British industry, 1:500,000 paid to British Oxygen's most senior executive.
Inbucon salary research manager Nigel Bryant explained that the survery does not show an average for all companies in Britain, but only a figure of best use but companies which want to keep ahead of the field.
"The survey is part of a service to management to help companies tell what they should pay their people," he says.
It reveals that executives' salaries have risen by more than the rate of inflation, giving them a three per cent real gain in earnings.
Taking July 1983 figures and comparing them with those in a similar survey last year, average gross salaries have risen by 10.2 per cent, from £19.060 to 1721,003, while net earnings rose from 1:13,743 on average to 05,076. "rile retail price index rose by 6.9 per cent over the same period.
Fringe benefits have continued to increase, despite what Bryant says are "half hearted'' Government attempts to curb them. "The company car is alive and very well and in some cases still flourishing,he comments.
Wholesale and retail distribution are among the businesses paying executives less than the all-industry norm. In both Cases, they pay on average 95 per cent of the norm.
Wholesale distribution salary increases averaged 9.5 per cent — below the 10 per cent norm — but retail distribution executives enjoyed a 10.4 per cent increase.
The highest increases were won by executives in electrical and electronic engineering (11 per cent) and in the computer business (1(1.9 per cent),