Union man Law dies aged 66
12th October 1985
Page 12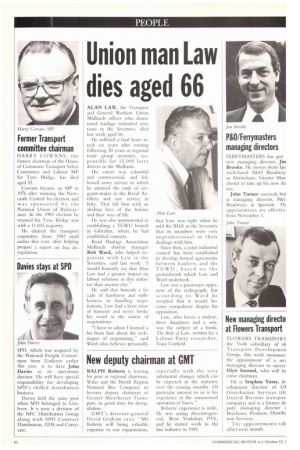 Page 12, 12th October 1985 —
Union man Law dies aged 66
Close
ALAN LAW, the Transport ;Rid General Workers Union Midlands officer who dominated haulage industrial relations in the Seventies, died last week aged 66.
He suffered a fatal heart attack six years after retiring following 20 years as regional trade group secretary, responsible for 15,000 lorry drivers in the Midlands.
His career was colourful and controversial, and followed army service in which he attained the rank of sergeant-major in the Royal Artillery and saw service in Italy. That left him with an abiding love of the Italians and their way of life.
He was also instrumental in establishing a TGWU branch in Gibraltar, where he had established contacts.
Road Haulage Association Midlands district manager Bob Ward, who helped negotiate with Law in the Seventies, said last week: "I would honestly say that Alan Law had a greater impact on labour relations in this industry than anyone else."
He said that beneath a facade of harshness and ruthlessness in handling negotiations. Law had a keen sense of humour and never broke his word in the course of negotiations.
"I have to admit I learned a lot from him about the techniques of negotiating," said Ward who believes personally
that Law was right when he told the RHA in the Seventies that its members were very unprofessional in their dealings with him.
Since then, a joint industrial council has been established to develop formal agreements between hauliers and the TGWU, based on the groundwork which Law and Ward undertook.
Law was a passionate opponent of the tachograph, but according to Ward he accepted that it would become compulsory despite his opposition.
Law, who leaves a widow, three daughters and a son, was the subject of a book, The Rule of Law, written by a Labour Party researcher, Tony Corfield.