New Electric Bus for a Lancashire Municipality.
12th May 1925
Page 29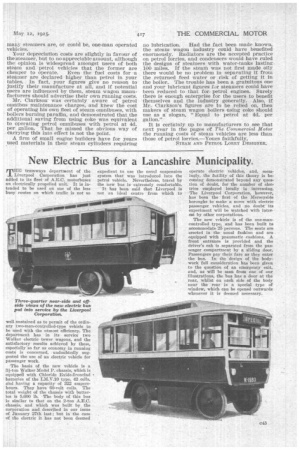 Page 29, 12th May 1925 —
New Electric Bus for a Lancashire Municipality.
Close
MILE tramways department of the 1 Liverpool Corporation has just added to its fleet of A.E.C. motorbuses an electrically propelled unit. It is intended to be used on one of the less busy routes on which traffic is not so well sustained as to permit of the ordinary two-man-controlled-type vehicle to be used with the utmost efficiency. The department has in its service two Walker electric tower wagons, and the satisfactory results achieved by these, especially so far as economy in running costs is concerned, undoubtedly suggested the -um of an electric vehicle for passenger work.
The basis of the new vehicle is a 3i-ton Walker Model P. chassis, which is equipped with Chloride Exide-Ironclad batteries of the LM.V.10 type, 42,cells, and having a capacity of 322 amperehours. They have 60-volt coils. The total weight of the chassis with batteries is 5,600 lb. The body of this bus is similar to that on the 2-ton A.E.C. chassis, and which was built by the corporation and described in our issue of January 27th last ; but in the case of the electric it has not been deemed expedient to use the novel suspension system that was introduced into the petrol vehicle. Nevertheless, travel by the new bus is extremely comfortable.
It has been said that Liverpool is not on ideal centre from which to
operate electric vehicles, and, seemingly, the futility of this theory is becoming demonstrated beyond any question of doubt, for the number of eIectries employed locally is increasing, The Liverpool Corporation, however, has been the first of the Merseyside boroughs to make a move with electric passenger vehicles, and AO doubt its experiment will be watched with interest by other corporations.
The new vehicle is of the one-mancontrolled type, and has been built to accommodate 25 persons. The seats are erected in the usual fashion and are , equipped with pneumatic cushions. A front entrance is provided and the driver's cab is separated from the passenger compartment by a sliding door. Passengers pay their fare as they enter the bus. In the design of the bodywork full consideration has been given to the question of an emergency exit, and, as will be seen from one of our illustrations, the bus has a door at the roar, whilst on each side of the body near the rear is a Special type of window, which can be opened outwards whenever it is deemed necessary.