MUNICIPAL RELIANCE UPON LOCAL INDUSTRY.
12th May 1925
Page 24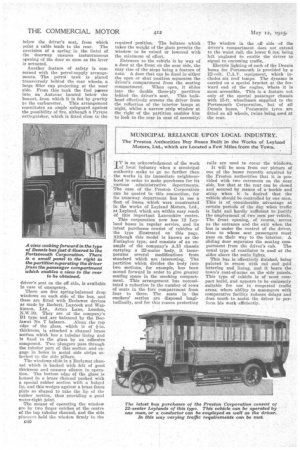 Page 24, 12th May 1925 —
MUNICIPAL RELIANCE UPON LOCAL INDUSTRY.
Close
The Preston Authorities Buy Buses Built in the Works of Leyland Motors, Ltd., which are Located a Few Miles from the Town.
IT is an acknowledgment of the work of local industry when a municipal authority seeks to go no farther than the works in its immediate neighbourhood in order to make purchases for its various administrative departments. The case of the Preston Corporation can be quoted in this connection, for its tramway department has in use a fleet of buses which were constructed in the works of Leyland Motors, Ltd., at Leyland, which are within easy reach of this important Lancashire centre.
This corporation pow has 12 Leyland buses in regular service, and its latest purchases consist of vehicles of the type illustrated on this page. Although this model, is known as the Farington type, and consists of an example of the company's A.12 chassis carrying a 22-seater body, it incorporates several modifications from standard which are interesting. The partition which divides the body into two sections, for example, has been moved forward in order to give greater seating space in the smoking compartment. This arrangement has necessitated a reduction in the number of rows of seats in the fore compartment from four to three. The seats in the smokers' section are disposed longitudinally, and for this reason protecting
rails are used to cover the windows.
It will be seen from our picture of one of the buses recently acquired by the Preston authorities that it is provided with two entrances on the near side, but that at the rear can be closed and secured by means of a-buckle and strap when it is desired that the vehicle should be controlled by one man. This is of considerable advantage at certain periods of the day when traffic is light and hardly sufficient to justify the employment of two men per vehicle. The front opening, of course, serves as the entrance and the exit when the bus is under the control of the driver, close to whose seat passengers must pass on their way to the interior. A sliding door separates the seating compartment from the driver's cab. The usual type of ventilator is used at the sides above the main lights.
This bus is effectively finished, being painted in cream with red and gold lettering and lining, and it bears the town's coat-of-arms on the side panels. This type of vehicle is of most compact build, and appears to be eminently suitable for use in congested traffic areas, where ability to manceuvre with comparative facility reduces delays and does much to assist the driver to perform his work efficiently.