A New Hydraulic Brake.
12th May 1925
Page 21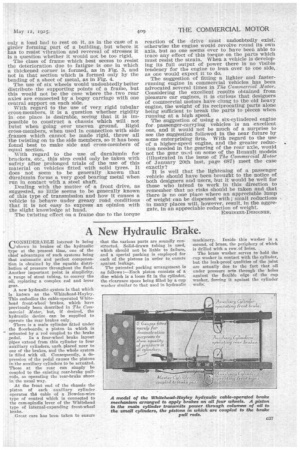 Page 21, 12th May 1925 —
A New Hydraulic Brake.
Close
CONSIDERABLE interest is being 1._./shown in brakes of the hydraulic type at the present time, one of the chief advantages of such systems being that automatic and perfect compensation is obtained by the equable distri.bution of pressure throughout the fluid.
• Another important point is simplicity, a range of stout tubing, th convey the oil, replacing a complex rod and lever gear.
A new hydraulic system is that which is known as the Whitehead-Hayley. This embodies the cable-operated 'Whitehead front-wheel brakes, which have previously been described in The Commereiab Motor, but, if desired, the hydraulic device can be supplied to operate the rear brakes only.
There is a main cylinder fitted under the floorboards, a piston in which is actuated by a rod coupled to the brake pedal. In a four-wheel brake layout pipes extend from this cylinder to four auxiliary cylinders, each placed near to one of the brakes, and the whole system is filled with oil. Consequently, a depression of the pedal causes the pistons in the auxiliary cylinders to be actuated. Those at the rear can simply be coupled to the existing rear-brake pullrods, so operating the rear-brake shoes in the usual way.
At the front end of the chassis the piston of each auxiliary cylinder operates the cable of a Bowden-wire type of control which is connected to the cam-spindle lever of the Whitehead type of internal-expanding front-wheel brake.
Great care has been taken to ensure
that the various parts are soundly constructed. Solid-drawn tubing is used, which should not be liable to failure, and a special packing is employed for each of the pistons in order to. ensure agaimst leakage.
The patented packing arrangement is as follows :—Each piston consists of a disc which is a loose fit in the cylinder, the clearance space being filled by a cup washer similar to that used in hydraulic
machinery. Inside this washer is a second, of brass, the periphery of which is drilled with a row of holes.
The brass washer serves to hold the cup washer in contact with the cylinder, but the leak-proof qualities of the joint are actually due to the fact that oil under pressure acts through the holes against the flexible edge of the cup washer, forcing it against the cylinder walis