Day arid Night Services Deily
12th March 1948
Page 46
Page 47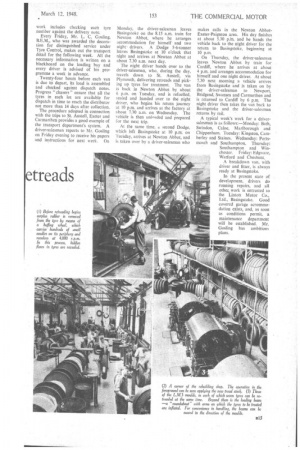 Page 48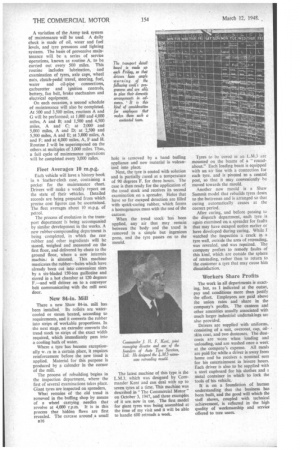 Page 46, 12th March 1948 —
Day arid Night Services Deily
Close
A. E. Sherlock-Mesher A Steadily Growing Fleet, at Present Numbering 24 Vehicles, Covers the Greater Part of England in the Distribution of Tyres Retreaded by Auto Tyre Services, Ltd.
WHAT are the factors that make for a "happy ship?" Financial considerations and welfare are undoubtedly important, but there are certain intangible elements that may contribute even more to industrial harmony. They include comradeship between employer and employed, respect by the worker for his superior officers, pride in workmanship and the knowledge that every person, no matter how humble in status, is assured of justice.
The management that can create this trust is able to devote the whole of its energies to the improvement of commercial and production techniques. Happy workers, carrying out a progressive technical policy laid down by the management, cannot fail to produce a maximum output of high quality.
The Nelson Touch The presence of 'those conditions probably explains the success of Auto Tyre Services, Ltd.. Basingstoke. There is in the works an atmosphere of naval efficiency, which undoubtedly owes much to one . of the founders, Commander J. H. F. Kent, joint managing director. The company's "flue Peter" emblem floats from the masthead above the lawn in 'front of the works, and a board above the timerecording clock details the "duty foreman." A swimming pool provided for the workers is another reminder of the company's background.
The intensiveness of work in the production and transport departments is also in the best naval tradition. Expansion in all sections is being effected as rapidly as conditions permit. In less than three years, the collection and delivery fleet has grown from two to 24 vehicles, and each month at least one Dodge 5-6-tonner is being added.
Vehicles back up to a doorway in the dispatch department to load and unload. Drivers are provided with dust coats for wear when doing work of this kind. . A change of coat is supplied every week.
Bristol; Carmarthen; Hereford and Worcester (via Cheltenham); Portsmouth; Eastbourne; Southend, Colchester; Cambridge; and Lincoln (via Peterborough).
Extensions are planned to cover weekly the west and east-coast routes to Glasgow and Edinburgh, and on to Aberdeen. The network links the company's own depots in London, Birmingham and Warrington, and the extensions will connect with a new depot that is projected in Glasgow.
Immediately a van arrives at the factory, it is unsealed and the contents are checked against the dispatch notes. They are then dried and cleaned, and passed to the examination department, where they are allotted a job• number that ensures the safe return of each customer's casings. The number is marked inside the casing and curing makes it indelible.
Dealing with Rejects Those tyres which are unsuitable for retreading are returned to the dispatch department to await the arrival of the retreaded cases, should the customer have asked for the return of all cases, retreaded or otherwise. Vertical cracks in the walls are the principal cause of rejection.
The dispatch department itself is many times larger than the "tin "roofed building which, 21 years ago, housed the entire works and offices. As many as 1,893 tyres have been shipped from it in a day. It is divided into bays, each allocated to a depot.
The foreman served for 30 years in the Royal Navy and has brought to the department the naval tradition of hard 'work and good humour. To satisfy his taskmaster, every loader must be able to handle 400 tyres a day—andthis
work includes checking cacti tyre nurriber against the delivery note.
Every Friday, Mr. L. C. Gosling, B.E.M., who was awarded the decoration for distinguished service under Tyre Control, makes out the transport detail for the following week. All the necessary information is written on a blackboard on the loading bay and every driver is advised of his programme a week in advance.
Twenty-four hours before each van is due• to depart, its load is assembled and checked against dispatch notes. Progress "chasers " ensure that all the tyres in each lot are available for dispatch in time to reach the distributor not more than 14 days after collection.
The procedure adopted in connection with the trips to St. Austell, Exeter and Carmarthen provides a good example of the transport department's system. A driver-salesman reports to Mr. Gosling on Friday evening to receive his papers and instructions for next week. On Monday, the driver-salesman leaves 13asingstoke on the 8.15 a.m. train for Newton Abbot, where he arranges accommodation for himself • and two
night, drivers. A .Dodge 5-6-tonner leaves Basingstoke at 10 o'clock that night and arrives at Newton Abbot at about 7.30 a.m. next day.
The night driver hands over to the driver-salesman, who, during the day, travels down to St. Austell, via Plymouth, delivering retreads and picking up tyres for treatment. The van is back in Newton Abbot by about 6 p.m. on Tuesday, and is refuelled, sealed and handed over to the night driver, who begins his return journey at 10 p.m. and arrives at the factory at about 7.10 a.m. on Wednesday. The vehicle is then unloaded and prepared for the next trip.
At the same time, a second Dodge, which left Basingstoke at 10 p.m. on Tuesday, arrives at Newton Abbot, and is taken over by a driver-salesman who makes calls in the Newton AbbotExeter-Paignton area. His day finishes at about 5.30 phi. and he hands the vehicle back to the night driver for the return to Basingstoke, beginning at 10 p.m.
On Thursday, the driver-salesman leaves Newton Abbot by train for Cardiff, where he arrives at about 4 p.m. and arranges accommodation for himself and one night driver. At about 7.30 next morning a vehicle arrives from Basingstoke and is taken on by the driver-salesman to Newport, Bridgend, Swansea and Carmarthen and is returned to Cardiff by 6 p.m. The night driver then takes the van back to Basingstoke and the driver-salesman returns by rail.
A typical week's work for a driversalesman is as follows:—Monday: Bath, Swindon, Caine, Marlborough and Chippenham. Tuesday: Kingston, Camberley and Staines. Wednesday: Portsmouth and Southampton. Thursday: Southampton and Winchester, Friday: Edgware, Watford and Cheshunt.
A breakdown van, with driver and fitter, is always ready at Basingstoke.
In the present state of development, drivers do running repairs, and all other, work is entrusted to the Lintott Motor Co., Ltd., Basingstoke. Good covered garage accommodation exists, and, as soon as conditions permit, a maintenance department will be established. Mr. Gosling has ambitions plans.
A variation of the Army task system of maintenance will be used. A daily check is made of oil, water and fuel levels, and tyre pressures and lighting systems. The basis of preventive maintenance will be a series of service operations, known as routine A, to be carried out every 500 miles, This routine includes lubrication, and examination of tyres, axle caps, wheel nuts, clutch-pedal travel, steering, fuel, water and oil-pipe connections, carburetter and ignition controls, battery, fan belt, brake mechanism and electrical equipment.
On each occasion, a second schedule of maintenance will also be completed. At 500 and 3,500 miles, routines A and G will be performed; at 1,000 and 4,000 miles, A and B; and 1,500 and 4,500 miles, A and C; at 2,000 and 5,000 miles, A and D; at 2,500 and 5.500 miles, A and E; at 3,000 miles, A and F; and at 6,000 miles, A, F and H. Routine I will be superimposed on the others at multiples of 3,000 miles. Thus, a full cycle of maintenance operations will he completed every 3,000 miles.
Fleet Averages 10 m.p.g.
Each vehicle will have a history book in a leather-cloth case, containing a pocket for the maintenance chart. Drivers will make a weekly report on the state of their vehicles. Detailed records are being prepared from which precise cost figures can be ascertained. The fleet averages about 10 m.p.g. of petrol.
The process of evolution in the transport department is being accompanied by similar development in the works. A new rubber-compounding department is being completed, in which the raw rubber and other ingredients will be stored, weighed and measured on the first floor, and delivered by chute to the ground floor, where a new intermix machin; is situated. This machine masticates the rubber—bales which have already been cut into convenient sizes by a six-bladed 150-ton guillotine and stored in a hot chamber at 120 degrees F.—and will deliver on to a conveyor belt communicating with the mill next door.
New 84-in. Mill
There a new Shaw 84-in. mill has
been installed. Its rollers are watercooled or steam heated, according to requirements, and it converts the rubber into strips of workable proportions. In the next stage, an extruder converts the tread stock to strips of the exact width required, which immediately pass into a cooling bath of water.
Where a tyre has become exceptionally w. n in a certain place, it requires reinforcement before the new tread is applied. Material for this purpose is produced by a calender in the corner of the mill.
The process of rebuilding begins in the inspection department, where the first of several examinations takes place. Giant tyres are inspected on spreaders.
What remains of the old tread is removed in the buffing shop by means of a wheel carrying needles that revolve at 4,000 r.p.m. It is in this process that hidden flaws are first revealed. The carcase around a small B16 hole is temoved by a hand buffing appliance and new material is vulcanized into place.
Next, the tyre is coated with solution and is partially cured at a temperature of 90 degrees F. for three hours. The case is then ready for the application of the tread stock and receives its second examination on a spreader. Holes that have so far escaped detection are filled with quick-curing rubber, which forms a homogeneous mass with the rest of the carcase.
When the tread stock has been applied, any air that may remain between the body and the tread is removed in a simple but ingenious press, and the tyre passes on to the mould.
The latest machine of this type is the L.M.3. which was designed by COMmander Kent and can deal with up to seven tyres at a time. This machine was described in "The Commercial Motor" on October 3. 1947" and three examples of it are, now in use. The first model for giant tyres was being assembled at the time of my visit and it will be able to handle 600 retreads a week. Tyres to be cured in an L.M.3 are mounted on the beams of a '• roundabout." Each loading beam is equipped with an air line with a connection for each tyre. and is pivoted to a central post, so that it may conveniently be moved towards the mould.
Another new mould is a Shaw Summit model that rebuilds tyres down to the buttresses and is arranged so that curing automatically ceases at the correct period.
After curing, and before passing to the dispatch department, each tyre is again examined on a spreader for faults that may have escaped notice earlier or have developed during curing. While I watched the inspection a crack in a tyre wall, outside the area of retreading, was revealed, and was repaired. The company prefers to remedy faults of this kind, which are outside the sphere of retreading, rather than to return to the customer a tyre that may cause him dissatisfaction.
Workers Share Profits The work in all departments is exactine, but, as I indicated at the outset, pay and conditions more than justify the effort. Employees are paid above the union rates and share in the company's profits. The canteen and other amenities usually associated with much larger industrial undertakings are also provided.
Drivers are supplied with uniforms, consisting of a suit, overcoat, cap, oilskin coat, and two dustcoats. The dustcoats are worn when loading and unloading, 'and are washed once a week at the company's expense. All meals are paid for while a driver is away from home and he receives a nominal sum for his entertainment in leisure hours. Each driver is also to he supplied with a steel cupboard for his clothes and a metal container in which to lock the tools of his vehicle.
it is on a foundation of human understanding that the business has been built, and the good will which the staff shows, coupled with technical achievement, is reflected in the high quality of workmanship and service offered to tyre users.