Luxury Coach Shows the Flag at Geneva
12th March 1948
Page 45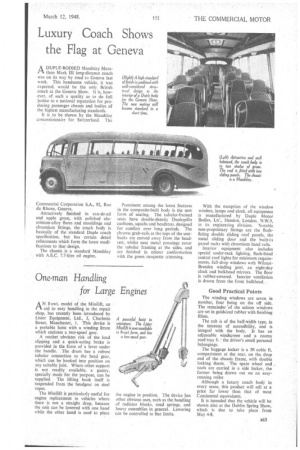 Page 45, 12th March 1948 —
Luxury Coach Shows the Flag at Geneva
Close
A DUPLE-BODIED Maudslay Marathon Mark III long-distance coach was on its way by road to Geneva last week, This handsome vehicle, it was expected, would be the only British coach at the Geneva Show. It is, however, of such a quality as to do full justice to a national reputation for producing passenger chassis and bodies of the highest manufacturing standards. It is to be shown by the Maudslay concessionnaire for Switzerland. The
Commercial Corporation S.A., 92, Rue du Rhone, Geneva.
Attractively finished in eau-de-nil and apple green, with polished aluminium-alloy flares and mouldings and chromium fittings, the coach body is basically of the standard Duple coach specification, but has certain detail refinements which form the latest modifications to that design.
The chassis is a standard Maudslay with A.E.C. 7.7-litre oil engine. Prominent among the latest features in the composite-built body is the new form of seating. The tubular-framed seats have double-density Dunlopillo cushions, squabs and headrests, designed for comfort over long periods. The chrome grab-rails at the tops of the seatbacks are curved away from the headrest, whilst neat metal pressings cover the tubular framing at the sides, and are finished in colour conformation with the green.moquette trimming. With the exception of the window winders, lamps and clock, all equipment is manufactured by Duple Motor Bodies, Lt'., Hendon, London, N.W.9, iv, its engineering division. Notable non-proprietary fittings are the flushfitting double sliding roof panels, the metal sliding door and the built-i3 parcel racks with chromium hand rails.
Interior equipment also includes special under-rack lighting, flush-fitted central roof lights for minimum requirements. full-drop windows with WilmotBreeden winding gear, an eight-day clock and bulkhead mirrors. The floor is rubber-covered. Interior ventilation is drawn from the front bulkhead. .
Good Practical Points
The winding windows are seven in number, four being on the off side. The remainder of the saloon windows are set in goldsized rubber with finishing fillets.
The cab is of the half-width type, in the interests of accessibility, and is integral with the body. It has an adjustable windscreen and a roomy roof-tray ft the driver's small personal belongings.
The baggage locker is a 50 cubic ft, compartment at the rear, on the drop end of the chassis frame, with double locking -doors. The spare wheel and tools are carried in a side locker, the former being drawn out on an easyrunning roller.
Although a luxury coach body in every sense, this product will sell at a price far lower than that of most Continental equivalents.
It is intended that the vehicle will be shown also at the Dublin Spring Show, which is due to take place from May 4-8.