WHAT FRI ENTERPRISE CAN DO
12th March 1948
Page 40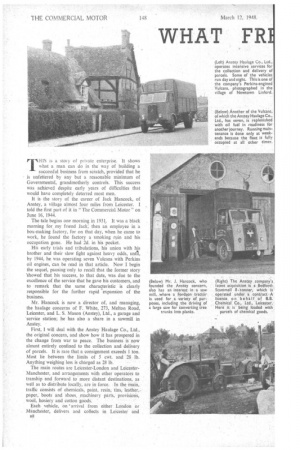 Page 41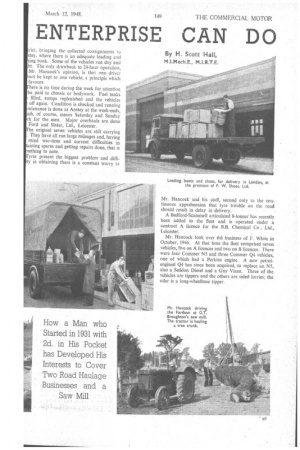 Page 42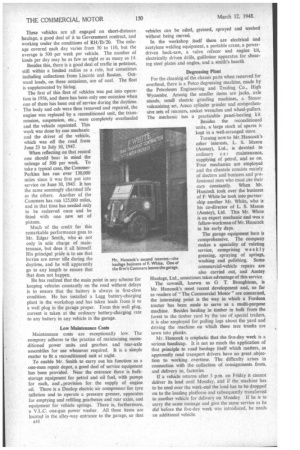 Page 40, 12th March 1948 —
WHAT FRI ENTERPRISE CAN DO
Close
THIS :s a story of private enterprise. It shows what a man can do in the way of building a successful business from scratch, provided that he is unfettered by any but a reasonable minimum of Governmental, grandmotherly controls. This success was achieved despite early years of difficulties that would have completely deterred most men.
It is the story of the career of Jack Hancock, of Anstey, a village almost four miles from Leicester. I told the first part of it in "The Commercial Motor" on June 16, 1944.
The tale begins one morning in 1931. It was a black morning for my friend Jack, then an employee in a box-making factory, for on that day, when he came to work, he found the factory a smoking ruin and his occupation gone. He had 2d. in his pocket.
His early trials and tribulations, his union with his brother and their slow fight against heavy odds, untt, by 1944, he was operating seven Vulcans with Perkins oil engines, can be read in that article. Now I begin the sequel, pausing only to recall that the former story 'showed that his success, to that date, was due to the excellence of the service that he gave his customers, and to • remark that the same characteristic is clearly responsible for the further rapid expansion of the business.
Mr. Hancock is now a director of, and managing, the haulage concerns of F. White, 273, Melton Road, Leicester, and L. S. Mason (Anstey), Ltd., a garage and 'service station; he has also a share in a sawmill in Anstey.
First, I will deal with the Anstey Haulage Co., Ltd., the original concern, and show how it has prospered in the change from war to peace. The business is now almost entirely confined to the collection and delivery of parcels. It is rare that a consignment exceeds 1 ton. Most lie between the limits of 5 cwt. and 28 lb. Anything weighing less is charged as 28 lb.
The main routes are Leicester-London and LeicesterManchester, and arrangements with other operators to tranship and forward to more distant destinations, as well as to distribute locally, are in force. In the main, traffic consists of chemicals, paint, resin,tins, leather,paper, boots and shoes, machinery parts, proVisions,
wool, hosiery and cotton goods. • Each vehicle, on 'arrival from either London or Manchester, delivers and collects in Leicester and _ 138 net, bringing the collected consignments to stey, where there is an adequate loading and ting bank. Some of the vehicles run day and ht. The only drawback to 24-hour operation, Mr. Hancock's opinion, is that onedriver not be kept to one vehicle, a principle which favours.
here is no time during the week for attention be paid to chassis or bodywork. Fuel tanks filled, sumps replenished and the vehicles off again. Condition is•checked. and running intenance is done at Anstey at the week-ends, ich, of course, means Saturday and Sunday rk for the men. Major overhauls are done Ford and Slater, Ltd., Leicester.
he original seven vehicles are still carrying They have all run large mileages and, having mind war-time and current difficulties in taming spares and getting repairs done, that is nething to note, • yres present the biggest problem and diffity in obtaining them is a constant worry to Mr. Hancock and his staff, second only to the continuous apprehension that tyre trouble on the road should result in delay in delivery. • A Bedford-Scammell articulated 8-tonner has recently been added to the fleet and is operated under a contract A licence for the B.B. Chemical Co , Ltd., Leicester.
Mr. Hancock took over the business of F. White in October, 1946. At that time the fleet comprised seven _ vehicles, five on A licences and two on B licences. There were four Commer N5. and three Commer Q4 vehicles, one of which had a Perkins engine. A new petrol" engined Q4 has since been acquired, to replace an N5, also a Seddon Diesel and a Guy Vixen. Three of the vehicles are tippers and the others are sided lorries; the oiler is a long-wheelbase tipper. These vehicles are all engaged on short-distance. haulage, a good deal of it to Government contract, and working under the conditions of RH/D/20. The mileage covered each day varies from 50 to 110, but the average is 500 per week per vehicle. The number of loads per day may be as few as eight or as many as 14.
Besides this, there is a good deal of traffic in potatoes, still within a limited radius as a rule, but sometimes including collections from Lincoln and Boston. Outward loads, on these occasions, are of coal. The fleet is supplemented by hiring.
The first of this fleet of vehicles was put into operation in 1936, and there has been only one occasion when one of them has been out of service during the daytime. The body and cab wete then removed and repaired, the engine was replaced by a reconditioned unit, the transmission, suspension, etc., were completely overhauled and the vehicle repainted. This work was done by one mechanic and the driver of the vehicle, which was off the road from June 23 to July 10, 1947.
When reflecting on that record one should bear in mind the mileage of 500 per week. To take a typical case, the CommerPerkins has run over 130,000 miles since it was first put into service on June 30, 1943. It has the same seemingly charmed life as the others. Another of the Commers has run 125,000 miles, and in that time has needed only to be resleeved once and be fitted with one new set of pistons.
Much of the credit for this remarkable performance goes to Mr. Edgar Smith, who .is not only in sole charge of maintenance, but does it all himself. His principal pride is to see that lorries are never idle during the daytime, and he will apparently go to any length to ensure that that does not happen.
He has realized that the main point in any scheme for keeping vehicles constantly on the road without delays is to ensure that the battery is always in first-class condition. He has installed a Legg battery-charging plant in the workshop and has taken leads from it to a wall plug in the garage proper. From this wall plug, current is taken at the ordinary battery-charging rate to any battery in any vehicle in the garage.
Low Maintenance Costs Maintenance costs are exceptionally low. The company adheres to the practice of maintaining reconditioned power units and gearbox and tear-axle assemblies for use whenever required. It is a simple matter to fit a reconditioned unit at night.
To enable Mr. Smith to carry out his function as a one-man repair depot, a good deal of service equipment has been provided. Near the entrance there is bulkstorage equipment for petrol and oil fuel, with pumps for each, and .provision for the supply of engine oil. There is a Dunlop electric air compressor for tyre inflation and to operate a pressure greaser, apparatus for emptying and refilling gearboxes and rear axles, and equipment for vehicle springs. There is, furthermore, a V.L.C. one-gun power washer. All these items are located in the alley-way entrance to the garage, so that vehicles can be oiled, grease& sprayed and washed without being moved.
In the workshop itself there are electrical and acetylene welding equipment, a portable crane, a powerdriven hack-saw, a valve refacer and engine kit, electrically driven drills, guillotine apparatus for shearing steel plates and angles, and a smith's hearth Degreasing Plant For the cleaning of the chassis parts when removed for overhaul, there is a Petco degreasing machine, made by the Petroleum Engineering and Trading Co., High Wycombe. Among the smaller items are jacks, axle stands, small electric grinding machines, a Stenor vulcanizing set, Amco cylinder grinder and comprehensive sets of reamers, socket Wrenches and wheel-pullers. The mechanic has a practicable panel-beating kit Besides the reconditioned units, a large stock of spares is kept in a well-arranged store.
Turning now to Mr. Hancock's other interests, L. S. Mason (Anstey), Ltd., is devoted to ordinary c a 1 maintenance, supplying of petrol, and so on. Four mechanics are employed and the clientele consists mainly of doctors and business and professional men who must use their cars constantly. When Mr. Hancock took over the business of F. White he took into partnership another Mr. White, who is his co-director of L. S. Mason (Anstey), Ltd. This Mr. White is an expert mechanic and was a fellow-workman of Mr. Hancock in his early days.
The garage equipment here is comprehensive. The company makes a speciality of valeting service, comprising weekly greasing, spraying of springs, washing and polishing. Some commercial-vehicle repairs are also carried out, and Ansley Haulage, Ltd., sometimes takes advantage of this service The sawmill, known as G. T. Broughtons, is Mr. Hancock's most recent development and, so far as readers of " The Commercial Motor" are concerned, the interesting point is the way in which a Fordson tractor has been made to serve as a multi-purpose machine. Besides hauling in timber in bulk from the forest to the timber yard by the use of special trailers, it is also employed for pulling logs about the yard and driving the machine on which these tree trunks are sawn into planks.
Mr. Hancock is emphatic that the five-day week is a serious handicap. It is not so much the application of that principle to road haulage itself which matters, as apparently road transport drivers have no great objection to working overtime. The, difficulty arises in connection with the collection of consignments from, and delivery to, factories.
If a vehicle returns after 5 p.m. on Frith)/ it cannot deliver its load until Monday, and if the machine has to be used over the week-end the load has to be dropped on to the loading platform and subsequently transferred to another vehicle for delivery on Monday If he is to carry the same tonnage and give the same service as he did before the five-day week was introduced, he needs an additional vehicle.