Jamaica Buys Forty American Buses
12th March 1948
Page 33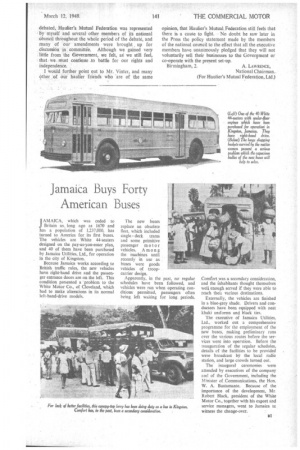 Page 33, 12th March 1948 —
Jamaica Buys Forty American Buses
Close
AMAICA, which was ceded to Britain as, long ago as 1670 and has a population of 1,237,000, has turned to America for its first buses. The vehicles are White 44-seaters designed on the pay-as-you-enter plan, and 40 of them have been purchaSed by Jamaica Utilities, Ltd., for operation in the city of Kingston.
Because Jamaica works according to British traffic rules, the new vehicles have right-hand drive and the passenger entrance doors are on the left. This condition presented a 'problem to the White Motor Co., of Cleveland, which had to make alterations in its normal left-hand-drive models. The new buses replace an obsolete fleet, which included single deck trams and some primitive passenger motor vehicles. Among the machines until recently its use as buses were goods vehicles of troopcarrier design.
Apparently, in the past, no regular schedules have been followed, and vehicles were run when operating conditions permitted, passengers often being left waiting for long periods. Comfort was a secondary consideration, and the inhabitants thought themselves well, enough served if they were able to reach theit various destinations.
Externally, the vehicles are finished in a blue-grey shade. Drivers and conductors have been equipped with neat khaki uniforms and black ties.
The executive of Jamaica Utilities, Ltd., worked out a comprehensive programme for the employment of the new buses. making preliminary runs over the various routes before the services went into operation. Before the maugurittion of the regular schedules, details of the facilities to be provided were broadcast bY the local radio station, and large crowds turned out.
The inaugural ceremonies were attended by executives of the company and of the Government, including the Minister of Communications, the Hon. W. A. Bustamante. Because of the importance of the development, Mr. Robert Black, president of the White Motor Co., together with his export and service managers, went to Jamaica to witness the change-over.