THE BUS v. TRAM.
12th March 1948
Page 32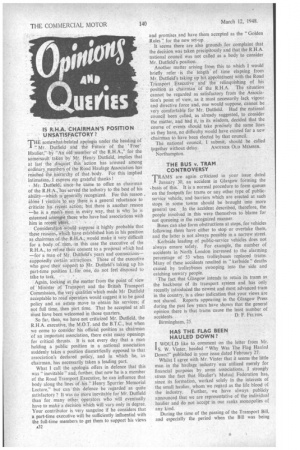 Page 32, 12th March 1948 —
THE BUS v. TRAM.
Close
CONTROVERSY
TRAMS are again criticized in your issue dated .1 January 30, an accident in Glasgow forming the s basis of this. It is a normal procedure to form queues on the footpath for trams or any other type of publicservice vehicle, and barriers which are erected at such stops in some towns should be brought into more general use. In the accident described, therefore, the people involved in this were themselves to blame for not queueing in the, recognized manner.
Buses can also form obstructions at stops, for vehicles following them have either to stop or overtake them, and the latter is not always possible in a narrow street.
Kerbside loading of public-service vehicles does not always ensure safety, For example, the number of accidents in North London increased to the alarming percentage of 53 when trolleybuses replaced trams. Many of these accidents' resulted in " kerbside deaths caused by trolleyb uses swooping into the • side and catching unwary people.
The fact that Glasgow intends to retain its trams as the backbone of its transport system and has only recently introduced the newest and most advanced tram in the country, is a clear indication that your views are not shared. Reports appearing in the Glasgow Press during the past -few years have shown that the general opinion there is that .trams cause the least number of
accidents.. D. F. FELTON. Birmingham, 25.