IS ,R.H.A. CHAIRMAN'S POSITION U NSATISPACTORY ?
12th March 1948
Page 32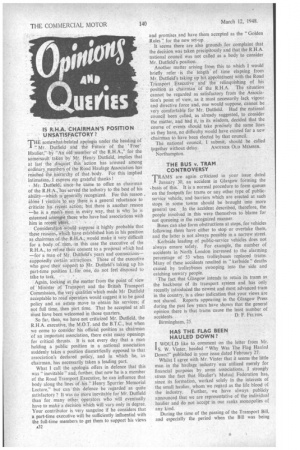 Page 32, 12th March 1948 —
IS ,R.H.A. CHAIRMAN'S POSITION U NSATISPACTORY ?
Close
THE somewhat belated apologia under the heading of ',` Mr. Duffield and the Future of the Free' Haulier;". by "An old -ffiernber of the R.H.A.," for the SOinersault. taken by Mr. Henry Dutfield, implies that at last the disquiet'. this :action has aroused among ordinaryniembers of the Road Haulage Association has reached the hierarchy Of that body. For this implied intimationj express .my grateful thanks !
Mr. Dutfreld;. since he 'came to office as chairman of the REA., has..serVed the industry to the best of his ability—which.ii:generally recognized. For this reason • alone I venture to say there is a general reluctance to criticize his recent action, but there is another reason ;--he is a .t.rt4n's".nian in every way, that is why he is esteemed amongst those who have had associations with him in recent ytitr. : .
Consideration-would suppose it highly probable that these reasons, which have established him in his position as chairinan_of the-:R.H.A.;.would Make it very difficult for a body. of.Men, in -this case the executive of the R.H.A., to .refuse their consent to a proposal which had —for a man of ,mr. Dtitfield's years and connectionssuppoSedly certain: attractions. ThOse of the executive who gave their siippoit to Mr: Dutfield'S taking up his• part-time pOsltion I, .ror 'one, do not feel disposed to take to task.
Again, looking at the .matter from the point of view of Minister of Transport and the British Transport Commission, the very qualities'which made Mr Duffield acceptable to rOad-OperatorS Would suggest it to be good policy and, an astute move to obtain his services; if not full time, then part time. That he accepted at all Must have been welcomed in those quarters.
So far, then, we have not criticized Mr. Dutfield, the R.H.A. executive, the M.O.T. and the B.T.C., but when we come to consider his official position as chairman of an important association, there exist many openings for critical thrusts. It is not every day that a man holding a public position in a national association suddenly takes a position diametrically opposed to that association's declared policy, and in which he, as chairman, has necessarily taken a leading part.
What I call the apologia offers in defence that this was " inevitable " and, further, that now he is a member of the Road Transport Executive, he can influence that body along the lines of his "Henry. Spurrier Memorial Lecture," but can this defence be regarded as quite satisfactory ? It was no more inevitable for me. Dutfield than for. many other, operators who will eventually have to make a decision Which Will vary only in degree. Your contributor is very sanguine if he considers that a part-time executive will be sufficiently influential with the full-time members to get them to support his views
A32 and promises and have them accepted as the "Golden Rules" for the new set-up.
It seems there are also grounds for complaint that the decision was taken precipitously and that the R.H.A. national council was not called as a body to consider
Mr. Dutfield's position., .
Another matter arising from this to which I would briefly refer is the -length: of time elapsing from Mr. Duffield 's taking up. his appointment with the Road Transport Executive and the relinquishing of his position as criairniari of the .R.H.A. The situation cannot be regarded as satisfactory from the Association's point of view, as it must necessarily lack vigour and directive force and, one would suppose, cannot be very comfortable fOr Mn;Dutfield. Had the national council been called, as already suggested, to consider the matter, and had it,in its wisdom, decided that the course of events should take precisely the same lines as they have, no difficulty would have existed for a new chairman to have been elected by that council.
The national council, I submit,. should be called together without delay. ANOTHER OLD MEMBER. Northampton.